The move came in response to Russia's refusal to extradite the man British police have charged with the murder last year of former Russian security-service officer Aleksandr Litvinenko.
Many said relations between the two governments were at their most strained since the end of the Cold War.
But British entrepreneurs in Russia are determined it should be business as usual, whatever the political relations between the two governments.
"You can have a distinct chill in political relationships, which has some impact on economic relationships, but doesn't actually disrupt them entirely."
"Fortunately, British business is in a position where it isn't actually dictated to by the British government," said Stephen Dalziel, the executive director of the Russo-British Chamber of Commerce, which represents some 500 British companies operating in Russia.
"British-Russian trade relations have never been healthier and, yes, everyone agrees that it's all very unfortunate, but I don't see that there's any reason why a political rift between London and Moscow necessarily means that people who are doing business and have been for many years shouldn't be able to carry on doing business as they always have," Dalziel said.
Pressure From Above
But Philip Stephens, the chief political commentator for the "Financial Times," warned that the Kremlin appears to have no qualms about putting pressure on British companies.
"I don't think it's in either country's interests to seriously disrupt economic trade or investment," Stephens said. "On the other hand, I think we've seen in the treatment, particularly of BP in Russia, a sense of how the Russian state is willing to use economic power."
Earlier this year, the British oil company's Russian subsidiary, TNK-BP, was persuaded to sell its stake in a lucrative Siberian gas field to the state-owned energy giant Gazprom. Last year, the Anglo-Dutch company Royal Dutch Shell was pressured into selling its controlling share in the huge Sakhalin II oil and gas field, also to Gazprom.
Nevertheless, both companies retain substantial investments in Russia: BP estimates it has invested $9 billion in its Russian assets, while the Sakhalin II project, which is being partly developed by Shell, is costing some $22 billion.
Britain is currently the third largest investor in Russia, ploughing $3.1 billion into the country in the first quarter of 2007 -- more than 10 times the investment of U.S. companies.
Chilly Relations, But No Disruption
Stephens of the "Financial Times" says even if diplomatic ties were to deteriorate further, the business climate would be unlikely to follow suit.
"Even during the Cold War there were quite strong economic relations with Russia. Gazprom supplied huge amounts of gas to Western Europe. So I think you can have a distinct chill in political relationships, which has some impact on economic relationships, but doesn't actually disrupt them entirely," Stephens said.
One British businessman who wished to remain anonymous told RFE/RL he was determined not to let the current spat affect his small, recently opened business. He said experience in other potentially risky markets had convinced him to make sure it was business as usual.
That sentiment that was echoed by Dalziel at the Russo-British Chamber of Commerce. "The serious problem will come if the two sides stop talking, and one of the areas where they can still talk sensibly is in the world of trade, business," Dalziel said. "People who are thinking of testing the market for the first time may decide that this isn't the best time. But I think serious business people who have decided that they're going to do business will go ahead, and there's no reason why they shouldn't."
Russia And The EU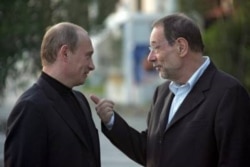 Russian President Vladimir Putin (left) with EU foreign policy representative Javier Solana in Sochi in May 2006 (epa)


A POLICY OF APPEASEMENT? Ralf Fuecks, head of the Heinrich Boell Foundation and a Green Party activist, spoke at RFE/RL's Prague broadcast center about the EU's complex relations with a resurgent Russia. RFE/RL President Jeff Gedmin moderated the discussion.
LISTEN
Listen to the entire briefing (about 60 minutes):

Real Audio
Windows Media
RELATED ARTICLES
Moscow Hosts PACE Standing Committee
Brussels Mulls Over Its Energy Sources
Council Of Europe 'Convinced' Of Chechnya Torture
ARCHIVE
RFE/RL's coverage of
Russia
.