British Foreign Secretary David Miliband told the House of Commons today that his government has no choice but to take strong action.
"Given the importance of this issue and Russia's failure to cooperate to find a solution, we need an appropriate response," Miliband said. "Our aims are clear: First, to advance our judicial process, second to bring home to the Russian government the consequences of their failure to cooperate, and third, to emphasize our commitment to promoting the safety of British citizens and visitors."
Litvinenko, a former KGB and Federal Security Service (FSB) agent who sought political asylum in Britain and was granted citizenship, died in a London hospital in November after being poisoned by the radioactive isotope polonium-210.
Litvinenko told doctors he began feeling sick after a meeting with fellow former FSB officer and businessman Andrei Lugovoi and a second man at a London hotel.
Before Litvinenko died, he said Russian President Putin was responsible for his poisoning.
After a lengthy investigation, Britain charged Lugovoi with Litvinenko's murder and asked Russia to extradite him to London to stand trial. Moscow refused, saying its constitution forbids Russian citizens to be tried in foreign countries.
Russia issued its formal refusal a week ago, setting the stage for today's reaction by Britain.
The British foreign secretary rejected Russia's refusal, and said the Metropolitan Police have built a strong case against Lugovoi.
"The Metropolitan Police has assembled a significant body of evidence against Andrei Lugovoi," Miliband said. "I can confirm the following: It is alleged that this grave crime took place in London in November 2006, when Mr. Lugovoi poisoned Mr. Litvinenko by administering a lethal dose of polonium-210, a highly radioactive substance."
Miliband also made it clear that Lugovoi could end up in British custody if he travels to a third country that has an extradition treaty with Britain.
Besides expelling the four Russian diplomats, Miliband said London has suspended talks on easing visa restrictions between the two countries and plans to review other areas in which London and Moscow have been cooperating.
Britain's Foreign Office didn't provide the names, ranks, or positions of the four Russian diplomats it plans to expel.
Moscow reacted swiftly and angrily to the British announcement.
"London's position is immoral," Russian Foreign Ministry spokesman Mikhail Kamynin told journalists in Moscow. "I will go even further. London should understand that provocative actions undertaken by British authorities will be not left unanswered and, on the whole, will have the most serious consequences for Russian-British relations. Russian Foreign Minister Sergei Lavrov has said that frankly to his British colleague in a phone conversation just hours ago."
Aleksandr Litvinenko: A Timeline
Aleksandr Litvinenko: A Timeline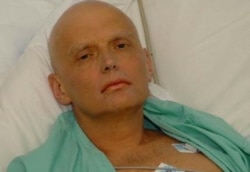 CLOAK AND DAGGER: A timeline of a murder case that unraveled after Andrei Litvinenko, a former Russian security officer and vocal Kremlin critic, dies on November 23, 2006, of poisoning by radioactive isotope polonium-210.
In a deathbed letter, Litvinenko blames Russian President Vladimir Putin for his death -- a claim Putin condemns.
Investigators center on two meetings in London that Litvinenko had described -- one in which he met with two Russians for tea in London, and another in which he met with a third Russian at a sushi bar.
Six months later, British prosecutors announce they have enough evidence to charge a Russian citizen -- one of the men who had met with Litvinenko for tea -- with the murder ...more...
MORE: Coverage in Russian from RFE/RL's Russian Service.
ARCHIVE
RFE/RL's English-language coverage of
Russia
.
SUBSCRIBE
For news and analysis on Russia by e-mail,
subscribe to "RFE/RL Russia Report."