Putin Rejects Lugovoi Extradition Request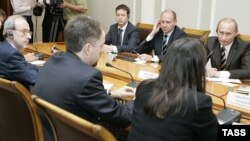 President Putin meeting with journalists from G8 countries on June 3 (ITAR-TASS) June 4, 2007 -- Russian President Vladimir Putin has dismissed as "foolishness" a demand by British prosecutors for the extradition of Andrei Lugovoi, the chief suspect in the radiation-poisoning murder of former Russian security officer Aleksandr Litvinenko.
Putin is quoted as saying that if the British authorities did not know that the Russian Constitution bars the extradition of Russian citizens to foreign countries, then their competence must be questioned.
Putin said that if the British authorities did know, but still sent the request, their effort amounted to public relations and politics.
(AFP)