Andrei Lugovoi also said Litvinenko was a British spy and that MI6 had tried to recruit him as a spy, too.
Lugovoi, who has been charged in Britain with the murder of Litvinenko, told a news conference in Moscow today that Litvinenko was a British spy who was murdered by either British special services, exiled Russian tycoon Boris Berezovsky, or the Russian mafia.
Whoever did it, Lugovoi said Litvinenko's poisoning with the rare radioactive isotope polonium-210 in November had to have taken place under the "control" of Britain's foreign intelligence service, MI6:
"There is one thing about which I have no doubt," Lugovoi said. "Whatever happened, Litvinenko's poisoning could not have happened without the control of the British intelligence services."
Didn't Produce The Evidence
Lugovoi said that he has evidence to support his claim, but did not elaborate.
Last week, Britain formally charged Lugovoi -- himself an ex-KGB agent now running his own security company -- with Litvinenko's death. Lugovoi denies the accusation and said today that traces of polonium linking him to the murder were deliberately planted to incriminate him.
Russia has refused to extradite him, saying its constitution does not allow this.
In an hour-long press conference he had billed earlier as "sensational," a confident and aggressive Lugovoi said Britain is making him a scapegoat.
Litvinenko died on November 23. The case, which brought back memories of the Cold War, was followed around the world.
In a deathbed statement read out by friends, Litvinenko accused Russian President Vladimir Putin of being behind his death.
The Kremlin has called the accusations nonsense.
Lugovoi, who met Litvinenko several times in London shortly before his death, said the former Russian agent was working for British intelligence services. He said exiled Russian tycoon Berezovsky was also employed by MI6. Berezovsky was granted asylum in Britain after falling out with Putin.
Looking For Motives
Lugovoi suggested Litvinenko may have fallen out with his employers, who could then have orchestrated his murder.
"The British didn't like the fact that he boasted to me about his highly placed contacts in MI6 and that by cooperating with the British intelligence services, he was following in the paths of [previous KGB defectors Oleg] Gordievsky and [Oleg] Kalugin, and that his followers had become Berezovsky and [Chechen separatist representative Akhmed] Zakayev. So, it is hard not to think that Litvinenko became an agent who slipped from their control, and they [killed] him."
Lugovoi said he himself had been approached by London to provide intelligence on Putin and his family.
Britain's Foreign Office declined to comment on the accusations, saying only that the Litvinenko case is a "criminal" rather than an intelligence issue.
Lugovoi's remarks are likely to cause further damage to already fragile British-Russian relations.
THE LITVINENKO CASE
Little Chance Of Extradition

Yury Kostanov, a veteran defense lawyer and former employee of the Russian Prosecutor-General's Office, discussed the legal aspects of the case.

more

Film On Case At Cannes

On May 26, the Cannes Film Festival screened "Rebellion: The Litvinenko Case," a documentary by Andrei Nekrasov, a friend of Litvinenko.

more
Facts About Polonium-210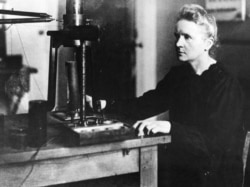 Marie Curie at work in 1925 (AFP)
Polonium, also called "radium F," was discovered by Marie Curie and her husband, Pierre Curie, in 1898 and was later named after Marie's homeland of Poland (Latin: Polonia).
It is an alpha emitter, meaning that although it is highly radioactive, it cannot penetrate human skin or a sheet of paper. Washing eliminates traces.
Contact with a carrier's sweat or urine could lead to exposure. But polonium-210 must be ingested or inhaled to cause damage.
Polonium-210 has a relatively short half-life of 138 days.
Polonium-210 occurs naturally in the environment (it is found in such things as dirt and tobacco) and in people at low concentrations. But acquiring a lethal amount would require individuals with expertise and connections.
Polonium-210 emits 5,000 times more alpha particles than radium, and an amount the size of the period at the end of this sentence would contain about 3,400 times the lethal dose. A dose like the one that killed former Russian spy Aleksandr Litvinenko would probably have been manufactured at a nuclear facility.
Russia exports 8 grams of polonium-210 monthly, all of it to the United States. Exports to Britain ended about five years ago.