But Andrei Lugovoi said in a May 27 interview on Russian television channel NTV that the British would have to "make a gesture" toward him before he considers handing himself over. He did not say what sort of gesture he had in mind.
British prosecutors on May 25 formally requested Lugovoi's extradition to face murder charges, but Russia has refused to extradite him, citing a constitutional ban. Russian officials say he could be prosecuted at home if Britain presents sufficient evidence.
Lugovoi denies any involvement in Litvinenko's death by radiation poisoning last year.
Litvinenko, a former KGB agent who was living in exile in London, said in a deathbed statement that Russian President Vladimir Putin was behind his poisoning.
(AFP, AP)
Aleksandr Litvinenko: A Timeline
Aleksandr Litvinenko: A Timeline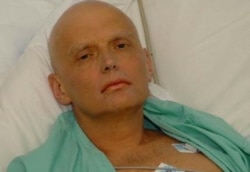 CLOAK AND DAGGER: A timeline of a murder case that unraveled after Andrei Litvinenko, a former Russian security officer and vocal Kremlin critic, dies on November 23, 2006, of poisoning by radioactive isotope polonium-210.
In a deathbed letter, Litvinenko blames Russian President Vladimir Putin for his death -- a claim Putin condemns.
Investigators center on two meetings in London that Litvinenko had described -- one in which he met with two Russians for tea in London, and another in which he met with a third Russian at a sushi bar.
Six months later, British prosecutors announce they have enough evidence to charge a Russian citizen -- one of the men who had met with Litvinenko for tea -- with the murder ...more...
MORE: Coverage in Russian from RFE/RL's Russian Service.
ARCHIVE
RFE/RL's English-language coverage of
Russia
.
SUBSCRIBE
For news and analysis on Russia by e-mail,
subscribe to "RFE/RL Russia Report."