Berezovsky Accuses Kremlin In Litvinenko Death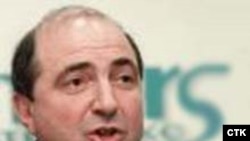 Berezovsky has repeated his claim that Moscow was involved in Litvinenko's death (file photo) (CTK) May 23, 2007 -- Exiled Russian tycoon Boris Berezovsky today reiterated his view that the Kremlin was involved in the poisoning death of former security officer Alyaksandr Litvinenko.
Berezovsky told the BBC that the type of radioactive polonium used to kill Litvinenko last November could never have been acquired, or transported, without state support.
Litvinenko, a fierce critic of President Vladimir Putin, died in London on November 23 after being poisoned by polonium.
British authorities recommended May 22 that murder charges be brought against Russian businessman Andrei Lugovoi over Litvinenko's death.
Lugovoi has repeatedly denied involvement, and Russian authorities say they will not extradite Lugovoi to Britain to face trial, citing a constitutional ban. But Russian officials have not ruled out that Lugovoi could be tried in Russia if the evidence against him is sufficient.
Meanwhile, British authorities today said they are moving forward on preparing an extradition request.
Also today, Russian First Deputy Prime Minister Sergei Ivanov said Britain's investigation into Litvinenko's death will not influence Moscow's relations with Britain. Speaking at a press conference in Moscow, Ivanov said he does "not see any major links" between Russian-British relations and the Litvinenko case.
(compiled from agency reports)


UPDATED CONSTANTLY: Visit RFE/RL's Russian-language website, featuring news, analysis, features, streaming audio, and more, in Russian, from RFE/RL's Russian Service.
ARCHIVE
RFE/RL's English-language
coverage of Russia
.