The film's director, Andrei Nekrasov, and Litvinenko's widow, Marina, attended the premiere in Cannes on May 26.
It was a last-minute decision by festival organizers to include the documentary in the festival program. The film had three screenings at Cannes on May 26.
The film does not attempt to present an investigation into Litvinenko's murder, so it does not add any significant information to the case surrounding his poisoning. Rather, it tries to put the case into the wider context of political processes unfolding in post-Soviet Russia.
The almost two-hour film covers such issues as the war in Chechnya and corruption.
Director, Litvinenko Became Friends
Nekrasov began making the documentary after meeting Litvinenko in London, where he had moved after making public accusations against his bosses in the Russian secret services. Over the course of making the film, Litvinenko and Nekrasov became friends.
Giorgi Gvakharia, a culture critic for RFE/RL's Georgian Service, attended one of the May 26 screenings. He says, "The film is interesting primarily because it does not aspire to present an investigation. The case is generalized and, in fact, it is being asserted that Russia today is being run by the FSB [Federal Security Service]."
"When the interview finishes, Luguvoi asks the director whether he would like some tea. First, he explains how it is possible to get poisoned by polonium in tea. Then, at the end of the interview, he offers tea to Nekrasov." -- Critic Giorgi Gvakharia
As Litvinenko's friend, Nekrasov was able to film the former KGB officer as he lay dying in a London hospital after being poisoned by the radioactive substance polonium-210, which was allegedly put in his tea.
Charges Against Lugovoi
The Cannes premiere came just four days after British prosecutors announced they had enough evidence to charge Andrei Lugovoi, a Russian businessman and former KGB officer, with Litvinenko's murder.
Lugovoi is one of the people Nekrasov interviews in the film. The interview was recorded before the charges were put forward.
Gvakharia says the Lugovoi interview is presented with a hint of black humor.
"When the interview finishes," Gvakharia says, "Luguvoi asks the director whether he would like some tea. First, he explains how it is possible to get poisoned by polonium in tea. Then, at the end of the interview, he offers tea to Nekrasov."
Critical Of Kremlin
"Rebellion: The Litvinenko Case" includes a lengthy interview with Litvinenko himself, recorded before the poisoning, in which he harshly criticizes Kremlin policies.
The film also features interviews with Anna Politkovskaya, the Russian investigative journalist who was shot dead in Moscow in October 2006; Boris Berezovsky, the Russian tycoon in exile in London; and with Litvinenko's widow, Marina, who says she was proud to have been at Cannes for the premiere.
The festival ends today with the awarding of the Palme d'Or, the prize for the festival's best film.

Aleksandr Litvinenko: A Timeline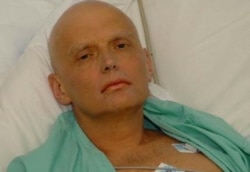 CLOAK AND DAGGER: A timeline of a murder case that unraveled after Andrei Litvinenko, a former Russian security officer and vocal Kremlin critic, dies on November 23, 2006, of poisoning by radioactive isotope polonium-210.
In a deathbed letter, Litvinenko blames Russian President Vladimir Putin for his death -- a claim Putin condemns.
Investigators center on two meetings in London that Litvinenko had described -- one in which he met with two Russians for tea in London, and another in which he met with a third Russian at a sushi bar.
Six months later, British prosecutors announce they have enough evidence to charge a Russian citizen -- one of the men who had met with Litvinenko for tea -- with the murder ...more...
MORE: Coverage in Russian from RFE/RL's Russian Service.
ARCHIVE
RFE/RL's English-language coverage of
Russia
.
SUBSCRIBE
For news and analysis on Russia by e-mail,
subscribe to "RFE/RL Russia Report."