U.S. State Department official David Welch called the decision a "positive step forward," but not an end to the ordeal of the five Bulgarian nurses and a Palestinian doctor. Welch said he hoped the medics would be allowed to return home.
Earlier today, it was announced that the families of the children have received financial compensation worth $460 million.
The 460 families have signed a declaration renouncing the death sentences after reportedly receiving $1 million each in compensation.
The medical workers, in prison since 1999, were sentenced to death in December 2006 after being convicted of intentionally starting an HIV epidemic at a children's hospital in the city of Benghazi. Fifty-six of the children have died in the epidemic.
The medics say they are innocent and that they were tortured to confess.
(compiled from agency reports)
RFE/RL Exclusive Interviews
RFE/RL Exclusive Interviews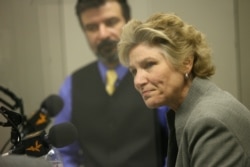 U.S. Undersecretary of State Karen Hughes being interviewed by RFE/RL in Prague on June 11 (RFE/RL)
AT THE MICROPHONE. RFE/RL frequently conducts in-depth interviews with leading newsmakers and analysts from throughout its broadcast region. Transcripts of many of these interviews have been gathered on a special archive page.
Recent Highlights:
Romanian President Traian Basescu | On EU aspirations
Georgian Integration Minister Giorgi Baramidze | On Georgia's relations with NATO, EU
U.S. Ambassador to the IAEA Gregory Schulte | On Iran's nuclear program
Kyrgyz Foreign Minister Alikbek Jekshenkulov | On relations with Uzbekistan
Former Ukrainian President Leonid Kuchma | On the return to power of Viktor Yanukovych