The visit to Damascus is Ahmadinejad's second in his two years in office and comes just two days after Syrian President Bashar al-Assad was sworn in for his second term, highlighting ties between Tehran and Damascus.
Both are staunch critics of the United States, and each has come under increasing UN isolation -- Syria over its alleged meddling in neighboring Lebanon and Iran over its continuing nuclear program.
Iranian state media says Ahmadinejad and al-Assad's meeting will focus on the "strengthening of bilateral relations and expansion of cooperation, as well as regional and international developments."
U.S. Watches With Suspicion
The strength of the two countries' ties is already viewed with suspicion by Washington, which blames Damascus and Tehran for recent instability in Lebanon and the broader Middle East.
On the eve Ahmadinejad's visit, the United States once again accused Syria and Iran of playing a destructive role in Lebanon. U.S. officials also claimed there is clear evidence of arms transfers across the Syrian border to what they called "terrorist groups inside Lebanon."
The accusation came from U.S. Ambassador to the UN Zalmay Khalilzad, who spoke to reporters after a closed Security Council meeting to discuss progress on a UN resolution that ended last year's war between Israel and Hizballah guerrillas.
Iran was instrumental in establishing Hizballah in the 1980s, and has been accused, along with Syria, of continuing to provide them arms and training.
Tehran also is a key supporter of Hamas, whose prime minister was recently sacked after violent clashes with its rival for Palestinian authority, Fatah.
Ali Reza Nurizadeh, the head of the Center for Arab and Iranian Studies in London, says the situation in Iraq and recent political developments in the Palestinian territories -- where Hamas has taken control of the Gaza Strip -- will be high on today's agenda.
Nurizadeh notes Iranian and Syrian influence over Hamas. "At the moment, Hamas has no way to any other place from Gaza -- it's abandoned," Nurizadeh says. "No one recognizes it officially and it is left in total isolation and humiliation. And now [Iran and Syria] have to find a solution. Hamas's leaders are based in Damascus, but its money and financial expenses are paid by the Islamic Republic [of Iran]."
Al-Assad was the first head of a state to visit Tehran after Ahmadinejad's election victory in 2005 -- five days after he took office. He made another trip to Iran earlier this year.
Iran: Missiles And More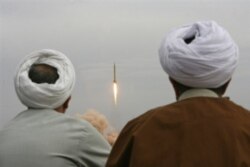 Iran tests its Shahab-3 medium-range missile in November 2006 (AFP)


HOW LONG A REACH? As the debate on missile defense sharpens, Tehran continues to develop its Shahab-3 missile, which is already capable of reaching some parts of Europe.... (more)
RELATED ARTICLES
Independent Nuclear Physicist Evaluates Iran's Nuclear Program
Iran Rocket Launch Another Show Of Prowess
How Close Is Iran To Getting Nuclear Bomb?
Iran's Super Weapons Claims Met With Skepticism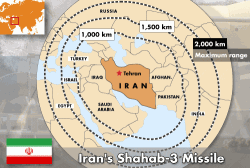 Click to enlarge the image.