Addressing a news conference in Brussels on July 18, NATO spokesman James Appathurai said Russia's intentions regarding the treaty, long considered a cornerstone of stability in Europe, remain a "mystery" to the alliance.

"The Russian position is not fully clear to me both in terms of suspension or in terms of what they want as a next step," Appathurai said. "That is exactly why the allies wish to discuss with the Russian Federation in more depth what it is exactly they mean."

Cold War Origins

The CFE Treaty took NATO and the Warsaw Pact 10 years to negotiate and came into force in 1992. It set limits on the deployment between the Atlantic Ocean and the Urals of conventional heavy weaponry such as tanks, artillery, and aircraft and provided for regular mutual inspections.

Following the breakup of the Eastern bloc, a revised treaty (CFE II) was negotiated in Istanbul in 1999 to reflect the new post-Soviet landscape by setting arms limits for individual countries.
A senior Russian Defense Ministry official has suggested that an entirely new agreement might be in order.
However, of the 30 states that signed on to the new agreement, only four countries -- Belarus, Kazakhstan, Russia, and Ukraine -- ratified it.

NATO states did not ratify the new treaty, saying they would do so only after Russia complied with commitments it made in Istanbul to remove its troops and equipment from Georgia and Moldova.

Russia has repeatedly called on NATO members to ratify the amended treaty -- particularly the three Baltic states, NATO members that were party to the original CFE Treaty as part of the Soviet bloc.

Following the failure to reach agreement on this and other issues -- particularly on the planned deployment of a U.S. missile-defense shield in Central Europe -- Russia announced on July 14 that it would be withdrawing from the original CFE Treaty after a required 150-day period.

NATO's Appathurai said on July 18 that the alliance believes Russia has merely "suspended" its participation in the treaty, and called for an extraordinary conference to be held to examine ways of reviving the accord.

Starting From Scratch?

However, a senior official at the Russian Defense Ministry, General Yevgeny Buzhinsky, on July 18 said such a conference is not necessary unless NATO's position has changed, and suggested that an entirely new agreement should be reached.

"We want to have an agreement [on conventional forces in Europe] that better suits the current situation," Buzhinsky said. "How can we reach such an agreement? If we should take the classical path, we should ratify an adjusted CFE treaty, wait for it to come into effect, and then begin adjusting the adjusted treaty. Alternatively, there is another option, and that is to make the political decision that the adjusted treaty does not suit today's situation either and to begin consultations and negotiations on a new agreement."

Appathurai called Buzhinsky's comments "unhelpful." However, he said the effects of recent Russian moves on European security should not be "overdramatized."

"But I think we have to put into a larger context in which NATO, NATO countries and Russia are not enemies," Appathurai said. "We do not anticipate -- and the Russians have made clear that they do not intend to make major troop movements during this period of what they call suspension."

Appathurai also stressed that NATO countries have always complied with the provisions of not only the original CFE, but also its unratified successor -- and will continue to do so.

"You will see NATO countries continue to meet their commitments under the [CFE II] treaty even though they have not yet ratified it, even though it has not yet entered into force," Appathurai said.

Two-Step Process

Appathurai said NATO believes the modified CFE Treaty (CFE II) should be brought into force, adding that the steps necessary for this -- Russia's troop withdrawal from both Georgia and Moldova -- are in Russia's hands and "quite achievable."

"There are two steps that need to be taken. One is the completion of a process that has already begun -- and begun well -- and that is the withdrawal of Russian troops and ammunition from Georgia. That could be completed, I'm told by experts, within weeks," Appathurai said. "And [then there is] the more substantial challenge, and that is the withdrawal of Russian forces from Moldova. The Moldovan government wishes for those to be withdrawn, there is a very basic principle in the treaty, the adapted CFE Treaty, and that is [the need for] host nation support. Nations must give permission for the presence of foreign forces on their soil."
The NATO spokesman once again underlined that once Russia has cleared these two hurdles, NATO nations will immediately ratify the modified CFE Treaty, after which the three Baltic countries and other new states in Eastern Europe can also accede to it.
Conventional Forces In Europe
Conventional Forces In Europe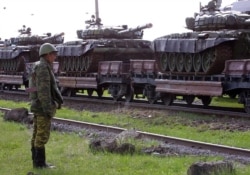 A Russian soldier watching Russian armaments leave Georgia in 2006 (epa)


AGREEMENTS ON CONVENTIONAL FORCES IN EUROPE. The CFE treaty is an arms-control agreement originally negotiated between NATO and the Warsaw Pact as a guarantor of European security in Europe in the waning days of the Cold War.

The original CFE Treaty took 10 years to negotiate, was signed by 30 states ** in November 1990, and came in to force in 1992. Its aim: to reduce stockpiles of conventional armaments between the Atlantic Ocean and the Ural mountains.
The blocs limited themselves to:
20,000 tanks
20,000 artillery pieces
30,000 armored combat vehicles
6,800 combat aircraft
2,000 attack helicopters

The CFE-1A, a 1992 addendum, has resulted in the withdrawal of more than 700,000 troops from Europe since 2001 and the destruction of 50,000 pieces of military equipment by 1995.
The CFE-II, negotiated in Istanbul in 1999, reflected the new, post-Soviet landscape by setting arms limits for individual countries, rather than zones. The agreement aided NATO's expansion efforts by allowing signatory states to allow foreign forces on their soil.
NATO states have not ratified the CFE-II due to concerns over Russia's failure to comply with commitments it made during the negotiations. Under the Istanbul Accords, Russia pledged to set a timetable for closing its remaining military bases in Georgia and to completely withdraw its forces from Moldova.
The CFE-II will come into force once ratified by all 30 CFE signatories. Thus far only Belarus, Kazakhstan, Russia, and Ukraine have ratified the CFE-II.
In ratifying the agreement in June 2004, Russia called on the signatories not to delay in ratifying the document. Russia expressed concern that Lithuania, Estonia, and Latvia, as nonmembers of the treaty, could possibly harbor NATO troops near its western border.
(** Armenia, Azerbaijan, Belarus, Belgium, Bulgaria, Canada, Czech Republic, Denmark, France, Georgia, Germany, Greece, Hungary, Iceland, Italy, Kazakhstan, Luxembourg, Moldova, the Netherlands, Norway, Poland, Portugal, Romania, Russia, Slovak Republic, Spain, Turkey, Ukraine, the United Kingdom, and the United States. )