Putin ordered the move in a decree signed today, the Kremlin said in a statement. It added that the decision was linked to "extraordinary circumstances" that affect "the security of the Russian Federation and require immediate measures."
Russian Deputy Foreign Minister Sergei Kislyak, speaking to reporters in Moscow, insisted that Russia is not "closing the door" on the treaty, which limits the number of heavy weapons that signatory countries can deploy between the Atlantic Ocean and the Ural Mountains.
But Kislyak called Putin's decision a "logical and justified step" as Russia continues to await a NATO response to proposals that Moscow has made on resolving their differences over the treaty.
An Outdated Pact?
"This treaty in its present form is hopelessly outdated. It was signed in 1990 and it regulates relations between NATO countries and Warsaw Pact countries," Kislyak said. "But today, there is no longer a Soviet Union nor a Warsaw Pact, while NATO is continuing to expand, exceeding the limits established by the treaty. And some of the new NATO member countries are not covered by this treaty at all. The decision about the suspension of the treaty, therefore, is a result of circumstances linked to Russia's security."
Tensions between Russia and NATO have been strained recently over disagreement on a range of issues. These include U.S. plans to place an antimissile defense shield in Poland and the Czech Republic, both former Warsaw Pact members, and the future status of Serbia's Kosovo province.
In Brussels, NATO spokesman James Appathurai called Putin's decision a "disappointing move, a step backwards." He added that NATO considers the treaty to be an important foundation of European security and stability.
In Washington, National Security Council spokesman Gordon Johndroe expressed concern but insisted that the United States will continue to work on the issue with Moscow. "We'll continue to have discussions with them in the coming months on the best way to proceed in this area," Johndroe said in a statement. "That is in the interest of all parties involved and provides for security in Europe."
The foreign ministries in Warsaw, Prague, and Bucharest all expressed regret over Russia's decision. Czech Foreign Ministry spokeswoman Zuzana Opletalova said the move could signify a "a threat to European security."
"It's a deeply unfriendly act. The irony is that even though NATO countries haven't ratified the adapted agreement, they all observe its terms." -- Russian military analyst Aleksandr Golts
The chairman-in-office of the Organization for Security and Cooperation in Europe, Spanish Foreign Minister Miguel Angel Moratinos, called Russia's decision a "matter of high concern." He urged signatory states to renew efforts to address the CFE's "underlying difficulties."
IIn April, Putin warned that Russia might withdraw from the treaty, saying it was frustrated by the refusal of NATO states to ratify a version of the treaty amended in 1999 to reflect changes that followed the breakup of the Soviet Union.
NATO says its refusal is based on Russia's own failure to meet its obligations under the pact to withdraw troops from the former Soviet republics of Moldova and Georgia. Russia rejects any link between the treaty and its troops in those two countries.
Russian military analyst Aleksandr Golts, speaking to RFE/RL's Russian Service, called Putin's decision "a deeply unfriendly act," adding: "The irony is that even though NATO countries haven't ratified the adapted agreement, they all observe its terms. No one is going over the prescribed limit."
Military Fallout
Golts also said he doesn't believe Russia's move will result in any concrete military changes, such as an arms buildup in Kaliningrad, the Russian enclave between Lithuania and Poland on the Baltic Sea. Instead, the analyst said Russia will probably limit its reaction to refusing to let any CFE signatory states inspect Russian armed forces, which they rely on to keep track of Russian deployments.
The CFE treaty was discussed in June at a four-day emergency session of its signatories and other officials in Vienna. It was also a topic during talks that month at a session of the NATO-Russia Council.
During those talks, NATO Secretary-General Jaap de Hoop Scheffer urged moderation in NATO-Russian relations, calling on all sides to "lower the volume."
De Hoop Scheffer also called on Moscow not to abandon its commitment to the CFE treaty in retaliation for U.S. missile-defense plans, saying this would be "a very negative development."
"I strongly believe that there is no alternative to a good and healthy Russia-NATO relationship because NATO cannot do without its important partner Russia, and I think I can say that Russia cannot do without NATO," he said on June 26.
Conventional Forces In Europe
Conventional Forces In Europe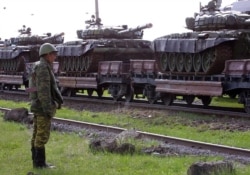 A Russian soldier watching Russian armaments leave Georgia in 2006 (epa)


AGREEMENTS ON CONVENTIONAL FORCES IN EUROPE. The CFE treaty is an arms-control agreement originally negotiated between NATO and the Warsaw Pact as a guarantor of European security in Europe in the waning days of the Cold War.

The original CFE Treaty took 10 years to negotiate, was signed by 30 states ** in November 1990, and came in to force in 1992. Its aim: to reduce stockpiles of conventional armaments between the Atlantic Ocean and the Ural mountains.
The blocs limited themselves to:
20,000 tanks
20,000 artillery pieces
30,000 armored combat vehicles
6,800 combat aircraft
2,000 attack helicopters

The CFE-1A, a 1992 addendum, has resulted in the withdrawal of more than 700,000 troops from Europe since 2001 and the destruction of 50,000 pieces of military equipment by 1995.
The CFE-II, negotiated in Istanbul in 1999, reflected the new, post-Soviet landscape by setting arms limits for individual countries, rather than zones. The agreement aided NATO's expansion efforts by allowing signatory states to allow foreign forces on their soil.
NATO states have not ratified the CFE-II due to concerns over Russia's failure to comply with commitments it made during the negotiations. Under the Istanbul Accords, Russia pledged to set a timetable for closing its remaining military bases in Georgia and to completely withdraw its forces from Moldova.
The CFE-II will come into force once ratified by all 30 CFE signatories. Thus far only Belarus, Kazakhstan, Russia, and Ukraine have ratified the CFE-II.
In ratifying the agreement in June 2004, Russia called on the signatories not to delay in ratifying the document. Russia expressed concern that Lithuania, Estonia, and Latvia, as nonmembers of the treaty, could possibly harbor NATO troops near its western border.
(** Armenia, Azerbaijan, Belarus, Belgium, Bulgaria, Canada, Czech Republic, Denmark, France, Georgia, Germany, Greece, Hungary, Iceland, Italy, Kazakhstan, Luxembourg, Moldova, the Netherlands, Norway, Poland, Portugal, Romania, Russia, Slovak Republic, Spain, Turkey, Ukraine, the United Kingdom, and the United States. )