But Turkey seems intent on expanding its energy ties with Iran despite the controversy surrounding Iran's nuclear program and its alleged role in destabilizing Iraq.
Turkish Prime Minister Recep Tayyip Erdogan has rejected U.S. criticism, saying Ankara is looking after its own interests.
Tehran and Ankara reached a preliminary agreement last week under which Turkey will receive 30 billion cubic meters of natural gas per year from Iran, for domestic use or to sell onward to energy-hungry consumers in Europe.
The deal envisages construction across Turkey of two separate pipelines to ship gas from Iranian and Turkmen gas fields. It also foresees Turkey developing three gas wells in Iran's South Pars field, with a reported investment of $3.5 billion.
More Than A Conduit
Turkish Energy Minister Hilmi Guler says Turkey wants to be more than just a transit route for gas. Instead it wants to set up a joint venture with Iran and Turkmenistan to market gas in Europe.
The preliminary agreement has caused ripples in Washington, which seeks to isolate Iran internationally because of the nuclear and Iraq issues.
U.S. State Department spokesman Sean McCormack made clear that Washington does not favor increased energy links between NATO ally Turkey and Iran.
"It's going to be up to the Turkish government [and] Turkish entities to decide whether or not they want to do business with Iran at this point in time," McCormack said. "If you ask our opinion, 'Do we think it is the right moment to be making investments in the Iranian oil and gas sector?' No, we don't think so."
Possible Factors
Significantly, the deal comes as the U.S. Congress is considering legislation that would compel the U.S. government to impose sanctions on foreign companies investing more than $20 million in Iran's oil and gas sector.
It also comes ahead of Turkish national parliamentary elections on July 22 that appeared likely to hand Turkish Prime Minister Erdogan a parliamentary majority.
Erdogan made a sharp reply to the State Department comments, saying the Iranian offer is "attractive" and that Ankara does not need U.S. "permission" to pursue its own interests.
Political analyst Seyfi Tashan, of the Turkish Foreign Policy Institute at Bilkent University, explains Erdogan's comment by saying Turkey is not in a position to ignore any offer of energy.
"Energy is something very important for Turkey, because we do not have substantial indigenous energy resources," Tashan said. "Therefore we rely on imports, and I do not think at this moment we are in a position to choose that we will accept the energy of 'this' country and reject the energy of 'that' country. [We will buy from] whoever supplies energy."
Geostrategic Considerations?
The U.S.-based Stratfor information group believes there are larger geostrategic considerations at stake.
Turkey presently has an estimated 140,000 troops poised in its border with northern Iraq, ready for a massive incursion to attack Turkish Kurd guerrillas of the Kurdistan Workers Party (PKK).
Ankara blames the PKK for terror attacks in Turkey, and it wants to root out that movement from bases in northern Iraq. The United States, however, has warned Turkey against cross-border military strikes, and the grounds that it would further complicate the political situation in Iraq.
Stratfor sees a link between the PKK issue and Turkey's willingness to develop closer ties with Iran. A Stratfor commentary of July 18 says that "Turkey is clearly sending a political message to the United States that it still has a number of ways to pressure Washington into cracking down on PKK rebels in northern Iraq."
Stratfor suggests the price for Turkey to take greater distance from Iran is that Washington must take a stronger hand in controlling the PKK's activities in northern Iraq.
An OPEC For Natural Gas?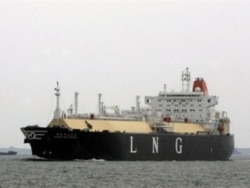 A tanker carries liquified natural gas to markets in Asia (AFP)

COMING TOGETHER? PFC energy analyst Nikos Tsafos and RFE/RL energy analyst Roman Kupchinsky discussed with an RFE/RL briefing what the likelihood is of a natural-gas-producers consortium being formed and what such an organization might look like.
LISTEN
Listen to the entire briefing (about 70 minutes):

Real Audio
Windows Media
RELATED ARTICLES
Vision Of Global Gas Cartel Gains Clarity
Putin To Take His Message To The Persian Gulf
Iranian Politicians Support Establishment Of Natural-Gas Cartel
'Gas OPEC' Moves Closer To Becoming Reality