Ukraine Says 164 People Sickened By Toxic Smoke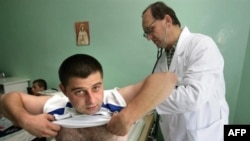 The number of people made ill by the toxic smoke has risen since the train derailed and caught fire on July 16 (AFP) July 20, 2007 -- Ukraine's Health Ministry says the number of people hospitalized following a spill of highly toxic yellow phosphorus in western Ukraine has reached 164, including 34 children.
Health Minister Yuriy Haydayev said authorities had checked 16,000 people for symptoms of chemical poisoning.
Officials have repeatedly said there is no widespread danger to local residents after the train derailed in the Lviv region on July 16, sparking a fire and releasing a toxic cloud.
(Interfax, AP)