Reporters Without Borders Criticizes Azerbaijan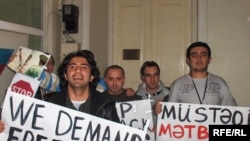 Opposition media were evicted from this building in November 2006 (RFE/RL) July 20, 2007 - The international media watchdog Reporters Without Borders has criticized Azerbaijan for what it called "repeated violations of the opposition media's rights."
The organization issued its statement today, as Azerbaijan prepares to mark National Press Day on July 22.

Reporters Without Borders called on Azerbaijan to amend four articles in its Criminal Code that are being used to imprison journalists.

Seven journalists are currently in prison in Azerbaijan on work-related charges.