Bulgarian Foreign Minister Ivaylo Kalfin told state radio today that it is "important that Europe talks to Libya with one voice and conveys the same messages."
Libya on July 17 commuted the death sentences against the nurses and the doctor to life imprisonment after a multimillion-dollar compensation deal was agreed.
EU member Bulgaria sent an official request to Libya on July 19 to extradite the six.
The five Bulgarian nurses and the Palestinian doctor, who has recently been granted Bulgarian citizenship, have been in jail in Libya since 1999.
The six have been accused of deliberately infecting more than 400 Libyan children with HIV/AIDS.
They deny any wrongdoing.
(dpa)
RFE/RL Reports On AIDS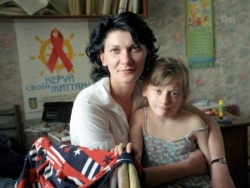 An HIV-positive Ukrainian woman and her daughter (epa)

FACES OF THE EPIDEMIC: HIV-infection rates continue to soar in many parts of RFE/RL's broadcast region, from Ukraine and Russia to Central Asia. RFE/RL frequently reports on the problems associated with the pandemic and efforts to combat them.
RELATED ARTICLES
China Steps Up Fight Against Spreading Epidemic
Iranian Brothers Change The Face Of HIV, Drug-Addiction Treatment
Drug-Treatment Effort Targets HIV/AIDS In Afghanistan
Tatarstan Clinic Is Bold Exception In Russia's HIV Battle
Fourteen Kazakh Children Infected With HIV In Hospitals
UNAIDS Head On Epidemic In CIS
Russia's 'Miss Positive' Puts Public Face On Battle With HIV/AIDS