Two Palestinians Killed In Israeli Air Raid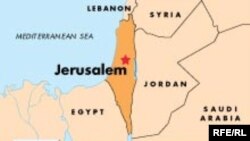 (RFE/RL) July 22, 2007 -- At least two activists of the armed Palestinian group Islamic Jihad have reportedly been killed in an Israeli air raid in the Gaza Strip.
Reports say today's air strike was against a group of men firing rockets into Israeli territory.
Earlier, two Palestinian gunmen were shot dead by Israeli soldiers in the Gaza Strip.
The Israeli military says the men were armed and approached the border fence separating Israel from the Gaza Strip when they were shot.
(Reuters, AFP, AP, dpa)