Mideast Quartet Meets As Violence Rages In Gaza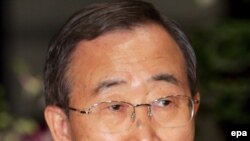 UN Secretary-General Ban Ki-moon (file photo) (epa) February 2, 2007 -- The Quartet of Middle East peace brokers -- the United States, the United Nations, Russia, and the European Union --  met today in Washington to discuss ways to revive the stalled Israeli-Palestinian peace process.
UN Secretary-General Ban Ki-moon said after the meeting that the Quartet welcomed U.S. efforts to accelerate the "road map" peace plan, which has seen little progress since it was launched four years ago.
The meeting comes amid a new eruption of fighting in Gaza, between the ruling Hamas movement and Fatah party of Palestinian Authority President Mahmud Abbas, that killed more than 20 people in the past day.
Palestinian Foreign Minister Mahmud al-Zahar called in a letter on Quartet members to open a dialogue with the Hamas-led government.
Both the European Union and the United States froze direct aid to the Palestinians after Hamas took power last March.
Russia called this week for the aid freeze to be lifted.
(compiled from agency reports)