Russia's Lavrov Blames Palestinian Strife On Outsiders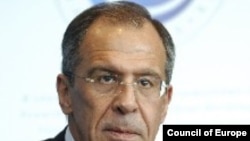 Russian Foreign Minister Sergei Lavrov (file photo) (Council of Europe) January 29, 2007 -- Russian Foreign Minister Sergei Lavrov today accused unnamed outsiders of provoking factional tension in the Palestinian territories, threatening to cause civil war, and hampering the peace process with Israel.
Lavrov's comments, during a Russian government meeting, came after fighting between the Fatah faction of Palestinian Authority President Mahmud Abbas and militants of the governing Hamas movement claimed 30 lives in recent days.
Russia is a member of the Quartet of international mediators for the Middle East, along with the European Union, the United States, and the United Nations.
Lavrov said the Quartet's task was to "help overcome the confrontation among the Palestinians, and first of all, between Fatah and Hamas, and stop attempts that unfortunately are being carried out from outside to provoke disagreements between these groups."
Lavrov is due to take part in a meeting of the Quartet in Washington on February 2.
(Reuters, Interfax, ITAR-TASS)