Rice, Olmert Agree To Three-Way Talks With Abbas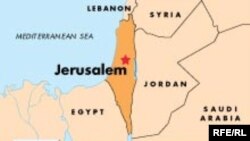 (RFE/RL) January 15, 2007 -- Israeli Prime Minister Ehud Olmert and U.S. Secretary of State Condoleezza Rice have agreed to hold a three-way meeting with Palestinian Authority President Mahmud Abbas on reviving the Middle East peace process.
Olmert's spokesman announced the agreement after Rice met with the Israeli prime minister in Jerusalem today. But he did not say whether Abbas has agreed to the talks.
In a meeting with Abbas yesterday, Rice offered her commitment to greater U.S. involvement in seeking a resolution in the region.
Later Rice had talks with Egyptian President Hosny Mubarak in Luxor, Egypt.
"I explained [to President Mubarak] that I will soon meet with Prime Minister Olmert and with President Abbas to have discussions about the broad issues on the horizon, so that we can work on the road map,'to try and accelerate the road map, and to move to the establishment of a Palestinian state," Rice said.
Rice is expected in Saudi Arabia later today.
(AP, Reuters, dpa)