However, no progress has been reported on getting the long-stalled Israeli-Palestinian peace process back on track.
Rice said on January 14 in Ramallah that she accepted calls for deeper U.S. involvement in the region.
Greater Engagement
"I have heard loud and clear the call for deeper American engagement in these processes," Rice said. "The United States is absolutely committed to helping to find a solution where Israelis and Palestinians can live in security, in which they can live in peace, and in which they can live in democracy."
But local leaders made it clear she faces a difficult task.
One idea being floated by the U.S. side -- of speeding up the Mideast "road map" for peace by establishing a Palestinian state with temporary borders -- was rejected by Palestinian Authority President Mahmud Abbas.
Meanwhile, as Rice was holding talks in Jerusalem today, the Israeli Housing Ministry announced plans to build an additional 44 homes in Israel's largest West Bank settlement -- in violation of the road map, which calls for a freeze on new settlement construction.
Rice meets Egyptian leaders later today before traveling to Kuwait on January 16, for talks with counterparts from eight Arab countries.
Many Arab leaders have made it clear to Washington that they want progress on the Israeli-Palestinian issue, in return for assistance on Iraq.
That appears to be why Rice made Jerusalem and Ramallah the first stops in her regional tour.
Bush To Proceed With Iraq 'Surge'
Rice's trip comes as the White House launches a new drive to promote its strategy of sending more troops to Iraq, in hopes of stabilizing the situation.
U.S. President George W. Bush, in an interview aired on January 14 on the weekly U.S. news show "60 Minutes," said he had made his decision about sending the extra 21,500 troops to Iraq, despite growing opposition in Congress.
Vice President Dick Cheney, appearing on another news program the same day, had much the same message, saying the Bush administration has no intention of reducing its presence in Iraq. He dismissed congressional criticism of White House policies, calling it an effort to "run a war by committee."
"Remember what bin Laden's strategy is," Cheney said. "He doesn't think he can beat us in a stand-up fight. He thinks he can force us to quit. He believes that after Lebanon in '83 and Somalia in '93, that the United States doesn't have the stomach for a long war. And Iraq is the current central battlefield in that war. And we must win there, it's absolutely essential that we win there, and we will win there."
The Bush administration retains some vocal supporters for its Iraq policy in the U.S. legislature, but support from the public is at an all-time low. And the criticism from Democrats -- and a growing number of Republicans in Washington -- is intensifying.
Republican Senator Chuck Hagel (Nebraska), also appearing on a television news program on January 14, made the case against Bush's current policy.
"The issue is whether an escalation of military involvement in Iraq, as the president proposed -- not just 22,000 more American troops, but the escalation regarding carrier strike forces, and Patriot Missile batteries, and more threats, and pursuing the Iranians and the Syrians -- is that the appropriate, responsible course of action to take?" Hagel said. "I don't believe it is."
Some Congressional Democrats have warned that if the White House does not heed their demands, they may seek to cut off funding for the war effort.
But party leaders are split on the issue and it does not appear to be an immediate threat for the administration.
RFE/RL Briefings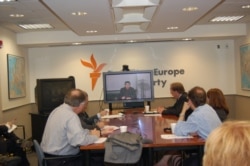 BEYOND THE HEADLINES. RFE/RL regularly hosts briefings and discussions with leading experts on our broadcast region. In 2006, some of the crucials topics were gas wars, elections in Belarus and Ukraine, Iran's nuclear program, and unrest in Central Asia....(more)
SUBSCRIBE
To receive RFE/RL briefing invitations and reports by electronic mail, send a message to
dc-response@rferl.org
with "Subscribe" in the subject line.