The group calls the death sentences against Adnan Hassanpour and Hiwa Botimar "outrageous and shameful."
RSF says Hassanpour wrote about the Kurdish issue for the magazine "Asou," which has been banned by the Ministry of Culture and Islamic Guidance. He was found guilty of "activities subverting national security" and "spying" at his closed-door trial.
The charges for which Botimar was sentenced are not known. He was a contributor to "Asou" and was an active member of the environmental NGO Sabzchia.
The sentences were issued on July 16 by a revolutionary tribunal at Marivan in Iran's Kurdish northwestern region.
In a statement, RSF said the death sentences "show how little Iran is bothered by international humanitarian law. They also show how determined it is to use every possible means to silence the most outspoken journalists and human rights activists."
It is calling for international pressure against Iran to reverse the ruling.
RSF says Iran is "in the process of becoming one of the world's biggest prisons for journalists."
World Press Freedom Day
NOT REALLY SO FUNNY:
The Paris-based World Association of Newspapers asked French cartoonist Michel Cambon to produce a series of cartoons on the theme of jailed journalists to mark World Press Freedom Day (May 3). Below, RFE/RL reproduces several of Cambon's cartoons.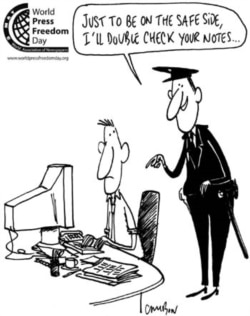 (WAN/Cambon)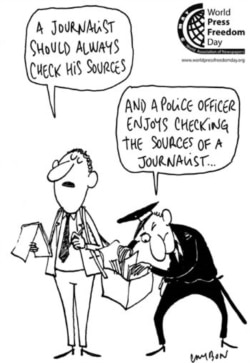 (WAN/Cambon)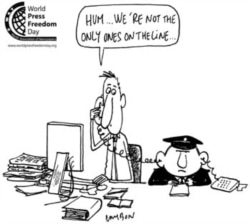 (WAN/Cambon)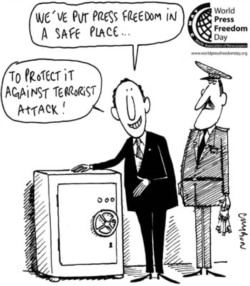 (WAN/Cambon)



RELATED ARTICLES
Threats To Press Freedom Growing More Severe
CIS Press Freedom Suffers Continued Decline
Pressure Mounting On Russian Opposition, Media
Uzbek Government Increases Its Blocking Of News Websites
ARCHIVE
To view an archive of RFE/RL's coverage of media-related stories, click here.
SUBSCRIBE
For regular news and analysis on media issues throughout RFE/RL's broadcast area by e-mail,
subscribe to "RFE/RL Media Matters."