And indeed, more city-dwellers are getting online all over the region, where Internet cafes have become a booming business and many schools and offices provide free connection to the World Wide Web.
But beneath the surface, the situation is arguably different: Internet cafes are subject to regular inspections by security officials, getting an Internet connection at home requires authorization, and independent news, civil-society, and opposition websites are blocked.
When the Tajik parliament introduced recent legislation criminalizing libel and other forms of defamation on the Internet, some media rights groups criticized the bill as an effort to hinder the free flow of information.
ISPs In Tow
Article 19, a London-based group that campaigns for freedom of speech worldwide, argued that no other country in the world includes such a specific provision for Internet postings.
Nuriddin Qarshiboev, who heads the National Association for Independent Media in Tajikistan, accuses the Tajik government -- which has a history of strictures on independent media -- of trying to extend its grip over online media.
"Since the Tajik governmental authorities are unable to close down an Internet website, they are now trying to restrict Internet freedom through technical means -- and they want Internet [service] providers to help them in dealing with the issue," Qarshiboev says.
Tajik authorities have blocked a number of antigovernment news websites in the past.
Tajikistan and other post-Soviet governments in Central Asia -- particularly Uzbekistan and Turkmenistan -- employ a range of methods to restrict public access to the Internet.
"[Authorities] check us regularly. Inspections take place here." -- Internet cafe owner in Tashkent
In Uzbekistan, most Internet service providers (ISPs) operate under government control. They have blocked opposition and rights groups' websites, as well as regional and international news sources that cover events in Uzbekistan. Websites like centrasia.ru, fergana.ru, and RFE/RL and BBC news sites have been "filtered" to prevent Uzbeks from seeing them.
Cafes, Too
An Internet cafe owner in Tashkent, who did not want to give his name, tells RFE/RL that officials regularly come to his cafe to monitor which websites customers are using.
"Yes, they check us regularly. Inspections take place here," he says. "There is an information inspection body that operates under [national telecommunications operator] Uzbektelecom. They usually come in and check us."
He adds that many Internet cafe owners are required to put up signs warning that "access to pornographic and political websites is prohibited."
Mahina, a 21-year-old student in the Tajik capital, Dushanbe, says she goes to Internet cafes to read up on the news that is otherwise unavailable.
"Mostly, I read Radio Ozodi [RFE/RL's Tajik Service] and BBC news websites in Tajik, as well as Asia-Plus, Varorud, and avesto.tj news agencies," Mahina says. "I look for news that we can't find on Tajik television."
Mahina says she must surf through those web pages "as quickly as possible" because of the high price of the connection for students like her.
Surfing In Uzbekistan
Apart from what are officially regarded as "pornographic and political" sites -- a catchall that is used to block non-state news outlets -- the Internet is expanding in Uzbekistan.
The number of Uzbek ISPs has grown from 25 in 1999 to 539, according to the latest available figures, from 2005, according to Open Net Initiative. Still, official Uzbek statistics suggest that just 1.2 million of the country's 27 million people has access to the Internet.
There are increasingly Internet cafes offering inexpensive connections to the net. The Tashkent Internet cafe owner we quoted earlier says the going rate -- equivalent to about $0.50 per hour -- is affordable for many Uzbeks.
Same Old Turkmenistan?
In Turkmenistan, it is a different story. The late strongman president, Saparmurat Niyazov, kept his impoverished public as hermetically sealed as possible. No Internet connections at home -- with even the handful of people who received official permission for it in the 1990s later banned from using the web.
The new president, Gurbanguly Berdymukhammedov, famously vowed to open the Internet up to his people.
But even under his tentative reforms, the cost of using the Internet is prohibitively high. In a country with an average salary of about $70 per month, the several Internet cafes that have opened charge around $4 per hour.
When he officially succeeded Niyazov in February, Berdymukhammedov pledged an immediate improvement in access to the Internet: "Starting from today, Internet cafes will be opened in Ashgabat and other cities. We are working on a program that gives every school and university access to the Internet."
Six months on, there appear to have been few changes. All opposition, human rights, and independent news websites are still blocked by the authorities. All ISPs are said to be closely controlled by the government.
Getting authorization for a household Internet connection is out of reach for most, with thorough checks by the National Security Ministry.
Limited Option
In Tajikistan, officials put the number of active Internet users at an improbably high 500,000, which would represent one in 12 citizens.
Tajikistan's unreliable electricity supplies present a major challenge for would-be web users, with power available in many places limited to a few early-morning and late-evening hours.
The same problem exists in many provinces of neighboring Uzbekistan.
While there is Internet growth all over Central Asia, the number of the net users still remains low relative to more developed places.
Out Of Reach
Only a tiny minority of people in Central Asia -- mostly urbanites -- have home computers. Where possible, those others access the Internet in offices or cafes, schools or universities. Some international organizations, like the Organizations for Security and Cooperation in Europe (OSCE), have opened special press centers in the region where journalists get free Internet access. In several Turkmen cities, U.S. cultural centers offer free Web connections.
More recently, the Internet is reaching some remote areas, too. But in the most Central Asian villages, the Internet is practically nonexistent.
Internet cafes are gaining popularity primarily in cities and on the outskirts of capitals.
Owners say that Internet cafe customers are mostly teenagers, usually playing online games or chatting on the web. Some come to use e-mail.
(RFE/RL's Tajik, Turkmen, and Uzbek services contributed to this report)
Media In Central Asia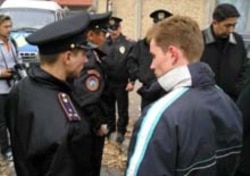 Ukrainian journalists trying to cover Kazakhstan's presidential election being expelled from the country in December 2005

MUZZLED MEDIA: Below is a brief overview of key media issues in each of the five Central Asian countries. (prepared by Daniel Kimmage)
Kazakhstan
Although Kazakhstan has seen the harassment of journalists and media outlets that fall afoul of the state, the larger problem is one of access -- both to sensitive information and to the larger public.
Asked whether freedom of the press exists in Kazakhstan, Darigha Nazarbaeva -- the daughter of President Nursultan Nazarbaev and a media magnate in her own right -- said recently that one need walk only five minutes in Almaty to find a publication that elaborates "what a bad president we have and how I've monopolized the entire press." And she's right -- an opposition press exists.
But national television, with its enormous potential to shape popular opinion, remains either state-controlled or subordinate to allied interests -- as witnessed by a strict taboo on investigations of alleged corruption in the Nazarbaev family.
Kyrgyzstan
Nowhere in Central Asia has the fate of the media reflected political upheaval as strikingly as in Kyrgyzstan of late. The true fall of President Askar Akaev in March 2005 took place not when he fled the seat of government before an advancing crowd, but when opposition leaders later made an impromptu appearance on state television. A heady period ensued, with revelations of Akaev-era skullduggery suddenly front and center in national media. But the honeymoon proved short-lived.
A post-Akaev political morass deepened through 2005 and early 2006 amid high-profile contract killings and frustrated expectations of political and economic reform. And the media environment followed suit, with initial gains eroded by renewed state interference in television, salaried partisanship in the print media, and the rising influence of organized-crime groups.
Tajikistan
Tajikistan's media environment has seen no such political upheavals. President Imomali Rakhmonov could rule through 2020, as long as he continues to secure reelection. He has consolidated his power in recent years -- seemingly with that aim in mind.
The media have also felt the consequences. As the country nears the end of its first decade since the 1992-97 civil war, the state maintains a firm grip national television and politically relevant print outlets. Meanwhile, a handful of tiny independent newspapers fight an increasingly uphill battle for access to printing facilities and readers.
Turkmenistan
The case of Turkmenistan speaks eloquently of a total stifling of media under blanket state control. News outlets trumpet the cult of President Saparmurat Niyzov and tout the purported glories of Turkmenistan's golden age under his rule. This reduces them to little more than a peephole on an otherwise sealed regime.
The media unfailingly broadcast Niyazov's pronouncements and feast on the latest official to fall from grace. On April 24, for example, former Prosecutor-General Gurbanbibi Atajanov, who recently stepped down after a decade of dispatching onetime colleagues to unenviable fates, begged for mercy on the evening news as the president vilified her for corruption. Those same media outlets ignore whatever fails to fit the script of the decreed golden age.
Uzbekistan
President Islam Karimov insists that Uzbekistan's media are at war. What foreign media reported as evidence of a massacre in Andijon in May 2005, the president and officials have described as an "information attack" intended to undermine Uzbekistan's stability and sovereignty. Print and broadcast outlets, controlled either directly or indirectly by the state, are required to fight off this alleged assault by detailing extremist threats and foreign plots. They are also tasked with explaining the country's shift of geopolitical allegiance to Russia and China.
What space remains goes to a sanitized portrayal of Uzbek reality, with some warts left in -- local corruption and economic difficulties -- to lend credence to the grand official narrative espoused by slogans such as "Uzbekistan, a country with a great future."
Of Related Interest:
Turkmenistan: RFE/RL Journalists Given 15-Day Sentence
Uzbekistan: New Media Resolution Tightens The Screws
Central Asia: Internet Fills Void Left By Media On Religious Freedom Issues
Central Asia: RFE/RL Speaks With Media Monitor About Press Freedom
THE COMPLETE STORY: To view an archive of RFE/RL's coverage of media-related stories, click here.


For regular news and analysis on media issues throughout RFE/RL's broadcast area by e-mail, subscribe to "RFE/RL Media Matters."