Speaking in Vienna, Yermukhamet Yertysbaev told the Permanent Council of the Organization for Security and Cooperation in Europe that Kazakhstan also will ratify international agreements on civil, political, cultural, and economic rights.
"We are united by the desire to make Kazakhstan even more democratic, our information sphere more open and our media more free, contemporary and independent," Yertysbaev said. "We have embarked upon a firm course of constructing a modern information community, the fundamental elements of which will be the e-government, digital television with the corresponding expansion of the services granted, access to the Internet for the rural population, including the farthermost areas, and equal and general access to modern information services."
Miklos Haraszti, the OSCE's representative on freedom of media, welcomed the announced plans to reform laws regulating Kazakhstan's media.
He said it is crucial to abolish "insult provisions" that protect Kazakh officials from what in Europe would be considered legitimate criticism and public debate.
Kazakhstan is seeking the OSCE's rotating chairmanship in 2009.
Yertysbayev said Kazakhstan's selection would "be a worthy assessment" of the country's "sincere aspirations, firm, and irreversible steps on the path to further democratization and development of liberties in our society."
(osce.org)
The Erosion Of CIS Press Freedom
The Erosion Of CIS Press Freedom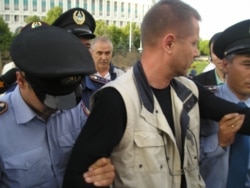 Prominent Kazakh journalist Sergei Duvanov being arrested in Almaty last month (RFE/RL)
FROM BAD TO WORSE. RFE/RL and Freedom House experts held a panel discussion at which they analyzed the erosion of press freedom in many CIS countries. According to Freedom House rankings, in 1994, six of the 12 CIS countries were rated "partly free"; by 2004, 11 of the 12 were rated "not free."
LISTEN
Listen to the entire briefing (about 70 minutes):

Real Audio
Windows Media
SUBSCRIBE
For regular news and analysis on media issues throughout RFE/RL's broadcast area by e-mail,
subscribe to "RFE/RL Media Matters."