Train Carrying Phosphorus Leaves Ukraine For Kazakhstan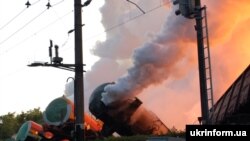 Many people were sickened when a train carrying phosphorus derailed and caught fire in Ukraine (file photo) (Ukrinform) July 26, 2007 (RFE/RL) -- A special train loaded with highly toxic yellow phosphorus began its journey to Kazakhstan from western Ukraine early today, RFE/RL's Ukrainian Service reports.
Ukraine's Emergencies Minister Nestor Shufrych says Moscow has granted permission for the train to pass through Russian territory.
It is being accompanied by two firefighting trains.
A train carrying yellow phosphorus derailed in Ukraine's Lviv region on July 16, sparking a fire and releasing a poisonous cloud.
The train was traveling from Kazakhstan to Poland when the accident occurred.
At least 164 people, including 34 children, were hospitalized after being sickened by the spill, which affected some 90 square kilometers.