Bosnian Victims Of Ethnic Cleansing Buried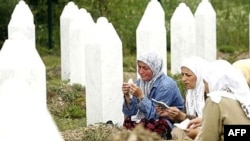 Bosnian Muslim women cry on July 10 as they pray at the graves in Potocari of relatives killed in the Bosnian war (AFP) July 28, 2007 -- Thousands of people attended a funeral in the Bosnian city of Prijedor today for 147 victims of a 1992 ethnic-cleansing campaign.
After a ceremony at a stadium, the bodies were buried in 12 different graveyards according to their families's wishes.
Authorities found the victims' remains in 31 different mass graves and identified them by DNA analysis.
Most died in the Omarska prison camp, which was set up by Serbian forces early in Bosnia's 1992-95 war. One was a Bosnian Croat and the rest were Muslims.
(AP, AFP)

SUBSCRIBE
For a regular review of politics, media, and RFE/RL broadcasts in the western Balkans,
subscribe to "RFE/RL Balkan Report."