Bosnian Serb Acquitted Of War Crimes Charges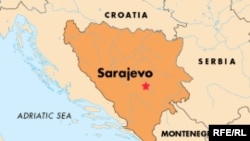 (RFE/RL) July 18, 2007 -- Bosnia-Herzegovina's war crimes court today acquitted a Bosnian Serb, Momcilo Mandic, of charges of war crimes during the 1992-1995 Bosnian war.
Mandic was indicted by the UN war-crimes tribunal in The Hague, but the case was transferred to Bosnia, which is handling the trials of some lower-profile suspects while the UN tribunal tries top wartime officials.
Bosnia-Herzegovina's judicial authorities charged Mandic a year ago with "criminal offenses of war crimes against civilians and crimes against humanity."
Although he was acquitted of war-crimes charges, Mandic will remain in prison, where he is serving a nine-year sentence for financial embezzlement in support of war-crimes suspects.
(dpa, Reuters)

SUBSCRIBE
For a regular review of politics, media, and RFE/RL broadcasts in the western Balkans,
subscribe to "RFE/RL Balkan Report."