The Research and Documentation Center, a Sarajevo-based nongovernmental institute, presented the results after completing the four-year study, called "The Bosnian Book of Death," which was sponsored mainly by the Norwegian government.
Project head Mirsad Tokaca said "at least" 97,207 soldiers and civilians were killed during the war. Tokaca said that number could rise by a maximum of another 10,000 due to ongoing research.
More than 40 percent of the victims were civilians.
Tokaca said 66 percent of those killed were ethnic Muslims, 26 percent Serbs and 8 percent Croats.
Bosnia's pre-war population of 4.4 million was 43 percent Muslim, 31 percent Serb, and 17 percent Croat.
Although there are no official numbers, Bosnian and international officials have often used the figure of some 200,000 deaths in the interethnic war.
(compiled from agency reports)
While The World Was Sleeping
While The World Was Sleeping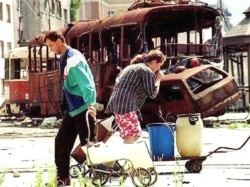 Sarajevo residents fetch water amid war debris in July 1993(AFP)
THREE LONG YEARS: RFE/RL correspondent Vlado Azinovic has also written a book entitled "While The World Was Sleeping," which documents the failure of the international community to respond promptly to the civilian tragedies of the Bosnian War. The book and the audio reports based on it that were produced by RFE/RL's South Slavic and Albanian Languages Service are available online in Bosnian.