Bhutto, the leader of the country's largest opposition party, would not comment on the meeting that officials said took place in the Persian Gulf emirate of Abu Dhabi on July 27.
However, Bhutto said later that General Pervez Musharraf must quit his military post if he is to continue as the country's leader.
Musharraf and Bhutto are widely reported to be working on an alliance designed to bolster the increasingly embattled president's political strength.
The deal would allow Bhutto to return home and become prime minister for the third time.
She has lived in self-exile in London and Dubai since 1998 after serving as prime minister in the late 1980s and early 1990s.
Musharraf seized power in a bloodless coup in 1999.
Opposition groups are demanding a return to civilian rule in parliamentary elections to be held by the end of the year.
(AP, Reuters)
Tribal Trouble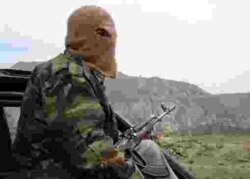 A Pakistani tribesman patrols near Wana in South Waziristan (AFP)
NO MAN'S LAND.
Fighting erupted in March involving tribesmen in Pakistan's fiercely independent western regions, where reports suggest locally backed offensives targetted Uzbek and other foreign Taliban sympathizers.
RELATED ARTICLES
Pakistan: Crackdown Could Pose Threat To Central Asia
Central Asia: Has IMU Reached The End Of The Line?
SUBSCRIBE
For regular news and analysis on Afghanistan by e-mail,
subscribe to "RFE/RL Afghanistan Report."