President George W. Bush's adviser on homeland security, Frances Townsend, briefed reporters on the document, known as the National Intelligence Estimate, on July 17.
Townsend said Al-Qaeda remained the chief threat to the United States and that its leaders were planning what she called "high-impact" attacks similar to what happened on September 11, 2001.
The National Intelligence Estimate "found -- although we have discovered only a handful of individuals in the [United States] with ties to Al-Qaeda's senior leadership since September 11, [2001] -- Al Qaeda will intensify its efforts to place operatives here in the homeland," she said. "As a result of these factors, the [National Intelligence Estimate] concludes that we are currently in a heightened threat environment."
Despite this heightened threat, Townsend admitted there was no credible evidence of an imminent attack and said the official threat level in the United States had not been raised.
Worries Over Al-Qaeda In Iraq
According to Townsend, the intelligence report -- which is the joint product of 16 government agencies -- says Al-Qaeda is planning to use its assets in Iraq, most of whom are members of the group known as Al-Qaeda in Iraq, to help it carry out new attacks in the United States.
The report "assesses that Al-Qaeda will enhance its capabilities to attack the homeland through greater cooperation with regional terrorist groups," she said. "Of most concern is that Al-Qaeda will try to exploit the conflict in Iraq and leverage the contacts and capabilities of Al-Qaeda in Iraq -- its most visible and capable affiliate and the only one known to have expressed a desire to attack the homeland."
In addition to the problem posed by Iraq, the report also raises concern that Al-Qaeda operatives have found "safe haven" in Pakistani tribal areas. The report is particularly critical of the Pakistani leader's cease-fire agreement with tribal leaders last year, under which President Pervez Musharraf pledged to keep a hands-off approach to the region. Townsend said Musharraf's strategy had failed and was allowing Al-Qaeda to regroup.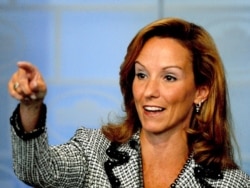 Frances Townsend (epa)
Still, Townsend tried to put a cautiously optimistic spin on the report, saying that Al-Qaeda remained weaker than it was prior to the terror attacks of September 11, 2001.
The report concludes that Al-Qaeda is still trying to acquire nuclear, biological, and chemical weapons -- weapons of mass destruction -- and won't hesitate to use them.
Besides Muslim militants, the report said, the United States faces terrorist threats from other groups who are expected to attack over the next several years. But it didn't specify which groups it was referring to.
War On Terror

ARCHIVE
An
archive of RFE/RL's coverage
of the global war on terror.