The new sweep, called Marne Avalanche, is the latest around Baghdad as part of the surge of nearly 30,000 additional U.S. troops sent to Iraq this year.
Meanwhile, twin suicide car bombs exploded within minutes of each other in the northern Iraqi city of Kirkuk today, killing at least 80 people and wounding around 150.
A Reuters camera operator said the explosions left bodies scattered on the street, set dozens of cars on fire, and trapped passengers on a bus, where they burned to death.
One blast collapsed part of the roof of the offices of the Patriotic Union of Kurdistan, the party of Iraqi President Jalal Talabani.
(Reuters, AFP, AP)
Iraqi Insurgent Media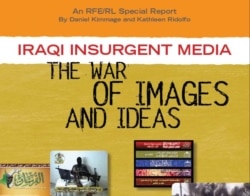 GETTING THE MESSAGE OUT. RFE/RL analysts Daniel Kimmage and Kathleen Ridolfo have produced a book-length study on the media efforts of the insurgency in Iraq and on how global jihadists are exploiting those efforts to spread their destructive message around the world....(more)
DOWNLOAD
(pdf format):
Part One Part Two Part Three Part Four Part Five



THE COMPLETE STORY: RFE/RL's complete coverage of events in Iraq and that country's ongoing transition.