On July 10, Iraqi Vice President Tariq al-Hashimi, the leader of the Iraqi Islamic Party -- a key component within the Iraqi Accordance Front -- rejected the suggestion that his coalition would put forward a no-confidence motion. Instead, he stressed that the Front would support such a motion if it were brought up by another party.
Soon after, "Al-Melaf" reported that radical Shi'ite cleric Muqtada al-Sadr's political bloc had decided to raise such a motion, thereby creating a unified front against al-Maliki between the al-Sadr's Shi'ite movement and the largest Sunni political bloc in parliament.
The U.S. troop surge that began in February was not only meant to quell the violence, but to also create space for the Iraqi government to move the political process forward and pass vital legislation.
Both blocs harbor considerable animosity toward the Iraqi premier. Al-Sadr has recently accused the Iraqi government of disparaging his militia, the Al-Mahdi Army, and essentially giving U.S. forces the green light to crackdown on it. At the same time, the Iraqi Accordance Front has long accused al-Maliki's government of marginalizing the Sunni Arab population.
The Oil Law Controversy
On the legislative front, al-Maliki faces a widespread revolt within parliament regarding the draft petroleum law that his cabinet recently approved. The Kurds, who in late June had indicated that they supported the draft law, have now announced they are vehemently opposed to the latest draft.
Kurdistan Natural Resources Minister Ashti Hawrami, without elaborating, said on July 11 that amendments made to the latest daft were meant to "reduce the powers of the [Kurdish] region," AFP reported.
In fact, the draft law has become so divisive that the Iraqi Accordance Front and al-Sadr's political movement, both of which are currently boycotting the parliament, announced separately on July 9 that they may end their boycotts specifically in order to vote against the bill. Even the Sunni-led Muslim Scholars Association criticized the law, describing it as "invalid" and issuing an edict calling on Iraqi lawmakers to vote against it.
Even with such serious objections to the draft, there are indications that al-Maliki may be able to cobble together enough support to pass it into law. However, forcing the bill through over such strenuous objections would adversely affect al-Maliki's efforts to foster national reconciliation.
Mixed Signals From Washington
While al-Maliki is being assailed within Iraq, he continues to receive mixed messages from the United States. The same July 7 CBS News report indicated that Washington has been working behind the scenes with several Iraqi political parties to form a broad new political coalition called the Iraqi Project. This new coalition would move to form a new government comprised of ministers ostensibly chosen for their expertise instead of their party loyalties.
A new, more secularly oriented coalition could possibly end the political paralysis that has crippled al-Maliki's government. Not only has his government failed to pass important legislation, but Sunni and Shi'ite parties alike have indicated that the political environment is so sectarian in nature that they have either boycotted the parliament or withdrawn support for al-Maliki's government, thereby making it difficult to raise a quorum.
However, publicly Washington stands by al-Maliki and the current Iraqi government, regardless of the political impasse, and this is not the first time reports have surfaced that the United States was moving behind the scenes to push al-Maliki out.
In December visits to the White House by Supreme Iraqi Islamic Council (SIIC) leader Abd al-Aziz al-Hakim and Iraqi Vice President Tariq al-Hashimi fueled speculation that a new political coalition was being formed to unseat al-Maliki. But internal disagreements and competing agendas among Iraqi political factions reportedly prevented the new coalition from forming.
A U.S. Troop Withdrawal?
Rumors of a partial U.S. troop withdrawal have sprung up in the Iraqi and Western press for years, only to be consistently rejected by the Bush administration. However, a July 9 report in "The New York Times" indicated that for the first time some administration officials, fearing the loss of more Republican support, were considering a gradual pullout of U.S. troops from "high-casualty areas."
While the White House categorically denied the report, it elicited an intense response from several high-ranking Iraqi officials, who said such actions would lead to grave consequences in Iraq. Iraqi Foreign Minister Hoshyar Zebari underscored the fears of many Iraqi leaders that a quick U.S. withdrawal -- without having enough adequately trained Iraqi forces to fill the security vacuum -- would lead to a civil war.
"The New York Times" report could be seen as another attempt by Washington to take a more aggressive stance toward Baghdad in the hopes of prodding the Iraqi leadership to move faster on the political front.
However, the article could also be an indication that the situation may be moving toward a tipping point where Washington's patience is nearing an end. With the U.S. public growing increasingly weary of the war and the desire for some sort of concrete plan for a troop withdrawal gaining momentum among U.S. lawmakers, the administration -- and by extension the Iraqi government -- may be running out of time.
The U.S. troop surge that began in February was not only meant to quell the violence, but to also create space for the Iraqi government to move the political process forward and pass vital legislation. However, there are indications that Iraq may not be able to do that before the highly anticipated September 15 status report is to be presented to Congress.
In a widely circulated article in the Western press this week, a U.S. official speaking on condition of anonymity indicated that Iraq will not meet any of the political and economic benchmarks for progress outlined by the United States in the spring. If that were indeed the case, then it would be a huge embarrassment for U.S. administration, as well as perhaps the decisive blow to al-Maliki's position.
Searching For A Way Forward
Searching For A Way Forward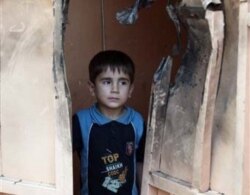 A boy looks out from his Baghdad home (AFP)
LOOKING BEYOND AL-MALIKI: RFE/RL Iraq analyst Kathleen Ridolfo led an RFE/RL briefing about the changing political landscape in Iraq, focusing on efforts to gain the upper hand in the event that the government of Prime Minister Nuri al-Maliki falls.
LISTEN
Listen to the entire briefing (about 70 minutes):

Real Audio
Windows Media
RELATED ARTICLES
Opposition Appears Set On Bringing Down Al-Maliki
Former Premier Pushing New Plan For Reconciliation
Al-Sadr Prepares For Post-Coalition Era
Sunni Ultimatum Rocks Al-Maliki's Position


THE COMPLETE STORY: RFE/RL's complete coverage of events in Iraq and that country's ongoing transition.