Four years after the U.S.-led invasion, Sunnis now complain that although many of them have joined the political process, they continue to be marginalized. Two recent incidents underscore this perception.

Speaker's Ouster Leads To Boycott
Iraq's two major Sunni political blocs, the Iraqi Accordance Front and the National Dialogue Council, announced on June 23 that they were boycotting the National Assembly until Sunni speaker Mahmud al-Mashhadani was reinstated to his post. Al-Mashhadani was voted out by 113 of the assembly's 168 legislators during the June 11 session after it came to light that he or his bodyguards had allegedly attacked a Shi'ite lawmaker.
Rather than nominating a replacement for al-Mashhadani, the two blocs stood firm and demanded that he be reinstated. Al-Mashhadani himself claimed that he was unfairly removed, since he did not get a chance to explain the incident before the vote.
Sheikh Khalaf al-Ulayyan, one of the leaders of the Iraqi Accordance Front, said al-Mashhadani's dismissal as demanded by Shi'ite-led United Iraqi Alliance, the largest bloc in the assembly, was done under false pretenses and was seen as "an unfair decision based on the dictatorship of the majority," Al-Sharqiyah television reported on June 23.
Al-Ulayyan's comments are telling and encapsulate many of the problems the Sunni Arab leadership has with the current Shi'a-dominated government, namely that it is carrying out a sectarian agenda that aims to marginalize the Sunnis. And demanding a vote without giving al-Mashhadani a chance to defend himself underscored this notion.
While it was true that al-Mashhadani had a confrontational style and had several physical altercations with fellow lawmakers, it may have also been his vocal opposition to several of Prime Minister Nuri al-Maliki's major policies that led to his ouster.
In early January, al-Mashhadani described al-Maliki's highly anticipated Baghdad security plan as "illegitimate," adding that al-Maliki had never consulted the parliament about the plan. Al- Mashhadani's rejection of the plan was most probably due to fears he and other Sunni leaders had that Sunni Arab communities would be disproportionately targeted during the security operation.
Furor Over Culture Minister's Arrest
Then on June 26, an
arrest warrant was issued
for Culture Minister As'ad Kamal al-Hashimi, a Sunni, on terrorism charges. It was the first time in the post-Saddam era that an arrest warrant has been issued against a sitting cabinet minister.
Al-Hashimi is alleged to have ordered the killing of Sunni lawmaker Mithal al-Alusi's two sons in Baghdad in 2005. It is unclear if al-Alusi or his sons were the target, but Iraqi government spokesman Ali al-Dabbagh told Al-Arabiyah satellite television that several individuals involved in the killing confessed that al-Hashimi had ordered the attack when he was the imam of a local mosque.
A raid on his Baghdad home and the arrest of more than 40 of his bodyguards -- al-Hashimi was not at home during the raid --were furiously denounced by Sunni groups and leaders. Many wondered why the government was aggressively looking into an incident that occurred two years ago.
The Sunni-led Iraqi People's Conference issued a statement on June 27 accusing the Shi'ite-led government of purposely targeting Sunni lawmakers in an effort to further marginalize the Sunni community, "Al-Sharq al-Awsat" reported.
"The government is stupidly playing with fire in continuing a policy of lies meant to exclude Sunni officials and politicians," the statement said. The Iraqi People's Conference threatened "to expose those high-ranking officials, ministers, members of parliament, and even Shi'ite religious figures who are involved with crimes of extermination against the Sunni people, such as killings, kidnappings, and forced relocations."
The day before, al-Hashimi himself told Al-Jazeera satellite television that the arrest warrant was only a pretext for the government to systematically target Sunni lawmakers, particularly those from the Iraqi Accordance Front.
"This has always been the case when they [the Iraqi government] want to frame anyone," al-Hashimi said. "The easiest way is to accuse him of involvement in terrorist acts. They are used to targeting and framing leaders from the Iraqi Accordance Front on a daily basis. They want to say that their [the front's] ideology is against coexistence and cooperation to build this country."
Perception Is Everything
While it is highly unlikely that the Iraqi government is systematically trying to target Sunni politicians, there is a prevalent belief within the Sunni community that it is actively trying to do so. The perception among Sunnis that the Shi'ite-led government is trying to lock them out of the political process could lead to the eventual collapse of that process.
It may stall or completely jeopardize efforts toward national reconciliation and further politically marginalize the Sunnis. While the United States has been pushing for Sunnis to have a greater role in the political process, the al-Mashhadani and al-Hashimi incidents may force Sunnis to reevaluate their situation within the current political landscape.
Sunnis, who once cautiously joined the political process thinking it was the appropriate route to change their lot in the post-Hussein era, may now completely abandon it. And those who are currently taking up arms may point to the perceived marginalization as further evidence that armed resistance is the only legitimate means for change.
Frustration within the Sunni Arab community may be at an all-time high. The review commission responsible for recommending proposed constitutional amendments missed its May deadline and there are rumors that it will not be ready for the new September deadline. Legislation to reverse the de-Ba'athification process to allow thousands of ex-Ba'athists to return to their jobs has ground to a halt.
With so little progress on the political front, the perception that Sunnis may be being muscled out of the political process may force many in that community to look for another alternative.
Iraqi Insurgent Media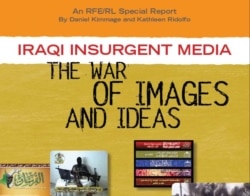 GETTING THE MESSAGE OUT. RFE/RL analysts Daniel Kimmage and Kathleen Ridolfo have produced a book-length study on the media efforts of the insurgency in Iraq and on how global jihadists are exploiting those efforts to spread their destructive message around the world....(more)
DOWNLOAD
(pdf format):
Part One Part Two Part Three Part Four Part Five



THE COMPLETE STORY: RFE/RL's complete coverage of events in Iraq and that country's ongoing transition.