"Even countries that consider themselves democratic and that we also consider democratic have already started looking for certain boundaries," Shaimiyev said during his visit today to the studios of the service's Kazan bureau. "I'm not talking about them stopping the process, but they have started to consider improving [their systems]."

Shaimiyev said this is a result of some of the negative aspects of democracy -- and their impact on people -- that have become evident during the transition to democracy.
"It is a process where one shouldn't hurry. We cannot strip ourselves bare and start chasing democracy -- we might stumble."
Avoiding Stumbling Blocks
He said he believes it is necessary to make that transition as easy as possible.
"We should act in the best interests of our people," Shaimiyev said. "It is a process where one shouldn't hurry. We cannot strip ourselves bare and start chasing democracy -- we might stumble."

However, he stressed that does not mean the ultimate goals have changed. He said the development of rights traditionally associated with democracies, such as freedom of the press, are key to the evolution into a free society.
"Without a doubt, society should be free. There should be no dispute about issues of the freedom and rights of the press. If they don't do any harm, then they should have their own opinion and make it known to the people -- and the people, every person, should be prepared to accept or reject this information," Shaimiyev said. "If we reach that level, we'll see civil society and democratic processes develop."

A Power-Sharing First
During his interview with RFE/RL's Tatar-Bashkir Service, Shaimiyev also discussed Kazan's new power-sharing treaty with Moscow.

"First of all, I want to say that although this agreement is shorter in length, it is very significant, particularly from a political perspective, because the 1994 agreement was prepared under very difficult conditions," Shaimiyev said.

Shaimiyev explained that the original power-sharing treaty between Tatarstan and Russia dealt mostly with property issues, while the new treaty bears a mostly political significance.

The newest agreement, which was formally approved by Russia's State Duma on July 4 and its Federation Council on July 11, gives the oil-rich republic more autonomy than other Russian federation subjects.

Most importantly, Shaimiyev said, it marks a first in Russian history.


"The political significance of the new agreement is much greater. If you take a closer look at this agreement, you can see that it is the first such agreement in Russia's history," he said. "It has the power of a federal law. It went through the State Duma, the Federation Council and acquired the power of a law. It provides many possibilities for resolving various issues. It has very substantial, important points."
Shaimiyev said the new treaty will allow Tatarstan to move forward on new intergovernmental agreements on environmental, tax, cultural, and other important issues.
And Tatarstan will be able to go into such negotiations on strong footing, since the treaty retains the republic's autonomy.
"It is said in the first article [of the power-sharing agreement] that Tatarstan will remain a state," Shaimiyev said.
On Course For The Future
Shaimiyev touched on another contentious issue in Moscow-Kazan relations -- calls for Tatarstan to switch to a Latin-based script, rather than Cyrillic.

Calling the issues very complicated, Shaimiyev warned that switching to a Latin-based alphabet could divide the Tatar nation.

As for his possible successor when his current term expires in 2010 -- or in the event he leaves his post earlier, as some have speculated -- the four-term president says there are plenty of young, talented leaders fit to replace him.
And that, he said, will allow Tatarstan to find his successor from within the republic itself -- an important luxury that will allow Tatarstan to continue in its own direction.
The Erosion Of CIS Press Freedom
The Erosion Of CIS Press Freedom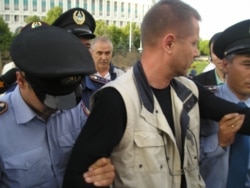 Prominent Kazakh journalist Sergei Duvanov being arrested in Almaty last month (RFE/RL)
FROM BAD TO WORSE. RFE/RL and Freedom House experts held a panel discussion at which they analyzed the erosion of press freedom in many CIS countries. According to Freedom House rankings, in 1994, six of the 12 CIS countries were rated "partly free"; by 2004, 11 of the 12 were rated "not free."
LISTEN
Listen to the entire briefing (about 70 minutes):

Real Audio
Windows Media
SUBSCRIBE
For regular news and analysis on media issues throughout RFE/RL's broadcast area by e-mail,
subscribe to "RFE/RL Media Matters."