The soldier, Jesse Spielman, was sentenced on August 4 following his August 3 conviction by a U.S. military jury at Fort Campbell, Kentucky, for rape, murder, and conspiracy in connection with the killings in March 2006, in the Iraqi town of Al-Mahmudiyah.
Three other U.S. soldiers have pleaded guilty in the case, while another still faces trial.
(AP)

Iraqi Insurgent Media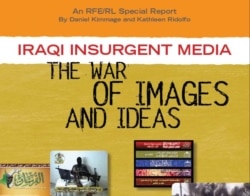 GETTING THE MESSAGE OUT. RFE/RL analysts Daniel Kimmage and Kathleen Ridolfo have produced a book-length study on the media efforts of the insurgency in Iraq and on how global jihadists are exploiting those efforts to spread their destructive message around the world....(more)
DOWNLOAD
(pdf format):
Part One Part Two Part Three Part Four Part Five



THE COMPLETE STORY: RFE/RL's complete coverage of events in Iraq and that country's ongoing transition.