State media reported that the "Azarakhsh" (Lightning) jet -- one of the first to be home-produced by Iran -- made a successful flight in the central city of Isfahan in a ceremony attended by Defense Minister Mostafa Mohammad-Najjar and other officials.
The development of the plane was first announced in September last year, when military officials said that it was "comparable" to the F-5 fighter.
(AFP)

Iran: Missiles And More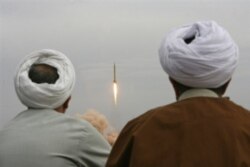 Iran tests its Shahab-3 medium-range missile in November 2006 (AFP)


HOW LONG A REACH? As the debate on missile defense sharpens, Tehran continues to develop its Shahab-3 missile, which is already capable of reaching some parts of Europe.... (more)
RELATED ARTICLES
Independent Nuclear Physicist Evaluates Iran's Nuclear Program
Iran Rocket Launch Another Show Of Prowess
How Close Is Iran To Getting Nuclear Bomb?
Iran's Super Weapons Claims Met With Skepticism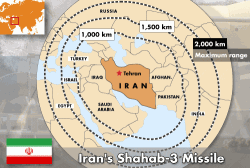 Click to enlarge the image.