In April, Erdogan's decision to propose Foreign Minister Abdullah Gul, whose wife wears the head scarf, as a candidate for the presidency sparked a major backlash from the secular opposition and military leaders. Erdogan was eventually forced to scrap the presidential vote and call early elections.
But following his AK party's landslide victory in those July 22 polls, Erdogan is now in the political driver's seat, with a solid majority in parliament to push through his agenda.
President Ahmet Necdet Sezer tapped Erdogan today to form a new cabinet, two days after the new parliament was sworn in.
Clash With Secularists Ahead?
While he has 45 days to present a list for Sezer's approval, the prime minister is expected to move quickly to set up his cabinet -- perhaps within a week -- and then move on to the next challenge: parliament's election of a successor to the outgoing Sezer, a staunch secularist.
Does that mean Turkey faces another political crisis pitting the secular establishment against Erdogan's Islamist-inspired AK party?
British analyst David Barchard, of Ankara's Tepav policy institute, doesn't think so. "We're in much calmer waters now," he says. "For a start, it's clear that there will be a quorum, as far as we can judge, a two-thirds quorum for the holding of the elections. That means [the parliament] won't be obstructed that way."
With Gul making it clear that he still wants to be president, Barchard says Erdogan will be hard-pressed to deny his foreign minister a second chance to win the parliamentary vote to succeed Sezer as president.
"My personal view is that we will end up with Mr. Gul after not a very long presidential election, perhaps two or three rounds at the most. But it certainly won't take more than a month to install him in office," Barchard says. "But there are other people who think some sort of compromise figure will be selected."
Barchard adds that the presidential vote could come within the next two weeks.
Threats Of Gul Presidency
Gul still faces stiff opposition from the secular establishment, which dislikes his Islamist past and his wife's Muslim head scarf.
The secularists derailed Gul's first bid to become head of state in a parliamentary vote in May, with hundreds of thousands protesting in the streets of Istanbul and Ankara.
Erdogan's party needs a quorum in the parliament to elect Gul, and is likely to secure that, as an opposition party last week pledged to be in the assembly during the voting.
Barchard says a Gul presidency could spell serious changes for Turkey and some of the most cherished traditions begun by the country's founding father, Mustafa Kemal Ataturk.
"The problem is that [Gul] does belong to the Islamist wing of the [AK party], as it's generally seen, and his wife does wear a veil. They are still strongly committed to that style of life," he says.
"So if he and his wife were to be in the presidential palace, one has to assume that the protocol of the country would change from top to bottom, and that Turkey will quickly become a very different sort of place," Barchard continues. "That, at least, is the fear of middle-class people, civil servants, and those generally opposed to Mr. Gul."
Ataturk, who founded Turkey in 1923, called the head scarf demeaning to women and a serious hindrance to a civilized nation.
But times are clearly changing in Turkey. And in a news conference days after the election last month, Gul reminded reporters that crowds at election rallies repeatedly chanted "Gul for President."
He added that he could not "turn a blind eye to the will of the people."
Who Speaks For Islam?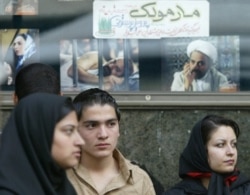 Young Muslims at a movie theater in Tehran (AFP file photo)


CROSS-CULTURAL DIALOGUE: On June 13, RFE/RL hosted a roundtable discussion entitled "Who Speaks For Islam?" The event was hosted by U.S. Undersecretary of State for Public Diplomacy and Public Affairs Karen Hughes and featured scholars of Islam from the United States, Europe, and the Middle East.
LISTEN
Listen to the entire briefing (about 2 hours and 15 minutes):

Real Audio
Windows Media
RELATED ARTICLES
Undersecretary Of State Pushes For More Interfaith Dialogue
Prominent Western Muslim Rejects 'Clash Of Civilizations' Idea
Scholar Warns Europe Of 'Clash Within Civilization'
Antiterrorism Battle Can't Be Won Without Full Muslim Involvement

A thematic webpage devoted to issues of religious tolerance in RFE/RL's broadcast region and around the globe.