Since then, there has been a constant stream of rhetoric from military officers and opposition politicians seeming to agitate for action.
Recently, the government has also weighed in. Foreign Minister Abdullah Gul confirmed that Turkey had drawn up a plan for a possible incursion into Iraq.
So has the balance tipped and can we expect Ankara to launch an assault in coming days? Not necessarily, say observers, but Gul's statement is a clear sign the government is under pressure.
Political Game
For answers, according to Turkish journalist Lale Sariibrahimoglu, one has to look to the country's upcoming parliamentary elections, due on July 22.
"We have been witnessing a domestic political game being played here,
[with the] secular establishment [trying] to weaken the government just
before the elections with this cross-border rhetoric."
Sariibrahimoglu, a political columnist for the English-language newspaper "Today's Zaman," says the rhetoric over a possible incursion into Iraq pits the secular-military establishment against the governing Islamist-rooted Justice and Development (AK) Party.
The military, she notes, knows that most people in Turkey are tired of terrorist attacks and favor tough measures against the Kurdish rebels. And it has been trying to use this to make the government look weak.
"We have been witnessing a domestic political game being played here, [with the] secular establishment [trying] to weaken the government just before the elections with this cross-border rhetoric, because you're facing public-opinion expectations for a cross-border operation," Sariibrahimoglu says.
In response, the government has toughened its own talk, to the point where both sides are now competing to sound more hawkish.
It could be a risky game, especially with an estimated 140,000 Turkish soldiers awaiting orders on the border, as Iraqi Foreign Minister Hoshyar Zebari said on July 9. The Turkish military has refused to confirm those numbers but it is clear the deployment is massive.
Risks Of Brinkmanship
Sariibrahimoglu believes that for now, the government will not act on its rhetoric, hoping that words will suffice to placate voters and to send a message to Washington and Baghdad to do more to rein in the PKK.
"Among the ruling party and the decision makers, the idea that Turkey may send troops into northern Iraq, and stating this on and off, has more to do with sending messages to both [Kurdistan region President Mas'ud] Barzani, Iraqi Kurds, the Iraqi government and the United States," Sariibrahimoglu notes. "There is no question about it."
What is clear, she says, is that the current situation reflects the failure by both the current and previous government to address the Kurdish issue -- to the point where only military means are now being discussed.
"For the decision makers, we have had two golden opportunities which were missed. Back in 1999, the then-coalition government could have introduced economic measures, packages, for the region -- because the region is war-torn. And the second golden opportunity was missed by the current government, by not addressing the Kurdish problem itself, their social problems, their economic problems," Sariibrahimoglu says.
"Although Turkish Prime Minister Recep Tayyip Erdogan, two years ago in Diyarbakir, identified the problem as an [economic] problem, for some reason he stepped back and we didn't see any economic packages introduced for the region."
After the election, of course, all bets are off on what Ankara will do. Much will depend on who wins a majority in parliament.
On The Verge Of Civil War
On The Verge Of Civil War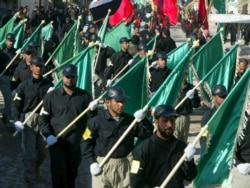 The Imam Al-Mahdi Army on parade (epa)
HAS THE CONFLICT IN IRAQ BECOME A CIVIL WAR? Many observers have concluded that the tit-for-tat sectarian violence that emerged after the February 2006 bombing of a mosque in Samarra has become a full-blown civil war.... (more)


RELATED ARTICLES
U.S. Media Starts Using 'Civil War' Label
Iraqi Prime Minister Under Fire From All Sides
U.S. Expert Discusses Prospects For Stabilization
President Says Iraq Needs Iran's Help
Saudi Arabia To Seal Off Border With Security Fence

THE COMPLETE PICTURE:
Click on the image to view RFE/RL's complete coverage of events in Iraq and that country's ongoing transition.