The project plans to include oil terminals on Kazakhstan's Caspian shore, tankers, oil-loading terminals in Azerbaijan, and facilities linking these terminals to the Baku-Tbilisi-Ceyhan pipeline.
KazMunaiGaz and SOCAR say they have also signed an agreement on cooperation in oil and gas, which involves the joint use of SOCAR's oil and gas infrastructure.
The two documents were signed in Astana during a visit by Azerbaijani President Ilham Aliyev.
(with material from agency reports)
An OPEC For Natural Gas?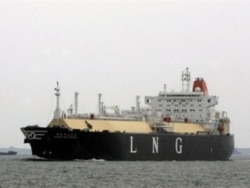 A tanker carries liquified natural gas to markets in Asia (AFP)

COMING TOGETHER? PFC energy analyst Nikos Tsafos and RFE/RL energy analyst Roman Kupchinsky discussed with an RFE/RL briefing what the likelihood is of a natural-gas-producers consortium being formed and what such an organization might look like.
LISTEN
Listen to the entire briefing (about 70 minutes):

Real Audio
Windows Media
RELATED ARTICLES
Vision Of Global Gas Cartel Gains Clarity
Putin To Take His Message To The Persian Gulf
Iranian Politicians Support Establishment Of Natural-Gas Cartel
'Gas OPEC' Moves Closer To Becoming Reality