Armenian, Russian Officials Discuss Russian Officer's Death In Armenia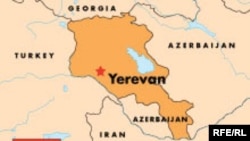 (RFE/RL) August 8, 2007 (RFE/RL) -- Armenian Deputy Foreign Minister Gegam Garibdzhanian said today that he has spoken with his Russian counterpart about the recent killing of a Russian Army officer in Armenia.
Russian Lieutenant Dmitry Yermolov, who was stationed in Armenia, was killed on August 6 in a village on the outskirts of Yerevan.
"Yesterday I had a telephone conversation with Russian Deputy Foreign Minister Grigory Karasin, whom I informed about the situation," Garibdzhanian told RFE/RL's Armenian Service today.
"I met with Deputy Prime Minister Hovik Abramian in the morning and I have learned about the process [of the investigation] and the Russian side is interested in this. We are following the process and will be in constant communication with Deputy Foreign Minister Karasin," he added.
According to unnamed officials from the Armenian Prosecutor-General's Office, Yermolov's killing stemmed from an altercation between two armed Armenians and a vehicle carrying five Russian servicemen in the early morning hours of August 6.
The altercation escalated and the Russian servicemen were reportedly beaten before their vehicle was fired upon by the armed Armenians, killing Yermolov and wounding another passenger in the car.

SUBSCRIBE For weekly news and in-depth analysis on Armenia, Azerbaijan, Georgia, and Russia's North Caucasus by e-mail,
subscribe to "RFE/RL Caucasus Report."