When the presidents of the United States and Russia meet, the whole world tends to watch. Nowhere is this more true than in the former Soviet Union, where the relations between Washington and Moscow have an enormous impact. How are the countries of the ex-USSR looking at the upcoming summit between George W. Bush and Vladimir Putin?
U.S. President George W. Bush is due to host his Russian counterpart Vladimir Putin in Kennebunkport, Maine, on July 1 and 2.
The informal summit -- which is being held at the prestigious albeit casual venue of the Bush family's summer home -- is widely viewed as an effort to mend fences at a time when relations between Moscow and Washington have sunk to a post-Cold War low.
The two presidents are slated to discuss issues ranging from Kosovo's final status, to a proposed missile-defense system in Europe, to Iran's nuclear program.
But regardless of what is on the agenda, the countries of the former Soviet Union -- from authoritarian Belarus, to oil-rich Azerbaijan, to Western-leaning Georgia -- will be paying close attention.
Washington and Moscow exert so much influence on the region, and the state of their relations have such an impact, that any U.S.-Russian presidential summit is impossible to ignore.
'Yalta Syndrome'
Georgia, for example, which is seeking to join the West and escape from Moscow's sphere of influence, tends to view any significant warming trend in U.S.-Russian relations with extreme trepidation.
Some call it the Yalta Syndrome -- a fear on the part of small countries that their interests will be sacrificed on the altar of great-power politics, as many believe those of Eastern Europe were after World War II.
Alexander Rondeli, president of the Tbilisi-based Georgian Foundation For International Studies, told RFE/RL's Georgian Service that if there are tensions in U.S.-Russian relations it is not very good for Georgia.
Some call it the Yalta Syndrome -- a fear on the part of small countries that their interests will be sacrificed on the altar of great-power politics
"For a small country it is not good to be on the front lines of a war. We don't have the military or political resources to resist," Rondeli said. "But it is also bad for us when they have good relations. We know from our own experience that when the United States and Russia have warm relations, our interests get neglected or ignored. The best thing for us is when their relations are neither too good nor too bad. This gives a small country like us the space to maneuver."
Georgia's pro-Western leaders are trying to steer the country into NATO and are counting on the United States to help get them into the Western alliance. Georgia also wants Washington to put its diplomatic muscle behind its efforts to bring the pro-Moscow separatist regions of Abkhazia and South Ossetia under Tbilisi's control.
And analysts like Rondeli say Georgia's leaders worry that Tbilisi's interests are always in danger of becoming bargaining chips between Moscow and Washington.
Other former Soviet countries, however, particularly those trying to steer a middle course between Russia and the West, hope U.S.-Russian relations are as close as possible.
Georgia's neighbors in the South Caucasus, Armenia, and Azerbaijan, for example, do not share Tbilisi's apprehension about close U.S.-Russian ties.
'Complementary-ism'
Armenia, which prides itself on maintaining good relations with both Washington and Moscow -- and getting as much as possible from both parties, sees its interests best served by a close and warm U.S.-Russian relationship.
Aram Abramian, a political commentator and editor in chief of the Yerevan-based daily newspaper "Aravot," said Armenia's leadership is governed by the principle of "complementary-ism."
"A crude way to put this is that we take money from the West and take weapons from Russia and have good relations with both Russia and the West. Its a bit cynical but in my opinion this is how it is," Abramian said.
Azerbaijan likewise favors good relations between Washington and Moscow -- as long as the United States is the dominant partner.
Vafa Guluzade, a Baku-based political analyst who was an adviser to former Azerbaijani President Heidar Aliyev, said it is in the interests of Azerbaijan to have a close Russian-American relationship.
"In these relations, the leading role belongs to the United States, not to Russia. But if there will be difficulties in Russian-American relations it means that Russia is stronger and Russia wants to be more independent. And this independence of Russia will be very bad for former Soviet republics and newly independent states," Guluzade said.
Azerbaijan would like to see the United States and Russia more intensely engaged on resolving the Nagorno-Karabakh conflict.
Central Asia
The countries of Central Asia, likewise, are trying to gain as much as possible from both Moscow and Washington.
Mathew Clements, the Eurasia editor in the Country Risk Department for Jane's Information Group, says the region would suffer if U.S.-Russian relations deteriorated further.
"Russia is likely to use this to put more pressure on the United States to withdraw its base from Kyrgyzstan and to reduce American influence in the region. And this is going to reduce the amount of aid, obviously, in security and also various other development projects that America can give to these countries," Clements said.
"Now a lot of Central Asian states have followed a multivectoral policy to try to bring in as much support from as many countries as possible, and this is going to be reduced."
In authoritarian Belarus, analysts say the country's leaders have a more nuanced view.
Officially, the regime of President Alyaksandr Lukashenka supports whatever line the Kremlin takes toward the West and the United States.
But analysts say the Belarusian president and his inner circle believe their interests are best served when U.S.-Russian relations are hostile. This is because Lukashenka's once-cozy ties with Russia are rapidly deteriorating and the Belarusian leader understands that he would be a more valuable ally for Moscow in an atmosphere of bad East-West relations.
What isn't discussed at meetings of U.S. and Russian presidents is often as important as what is discussed. Opposition figures in Russia, Belarus, and elsewhere often lament that issues like human rights and democracy take a back seat to larger geopolitical considerations.
Russia's opposition leaders say that by treating Putin as an equal partner despite his backsliding on democracy at home, Bush is giving Putin international democratic legitimacy he does not deserve.
Garry Kasparov, leader of the opposition group Other Russia, told RFE/RL that Bush needs to speak the truth.
"Democrats don't recognize double standards. If he speaks truthfully about the situation in Russia, Bush will not damage the situation. We are not asking for any help for ourselves. We are asking for an end to this de facto unspoken, informal support for Putin," Kasparov said.
"It is clear that receiving him at his personal ranch -- that is support. In one way or another, these are the contacts that allow Putin to strengthen his domestic position in Russia and demonstrate that he is a full-fledged partner of the president of the United States of America."
(RFE/RL correspondent Bruce Pannier, RFE/RL's Georgian Service Director David Kakabadze, and RFE/RL's Kyrgyz Service contributed to this report)
Russia And The West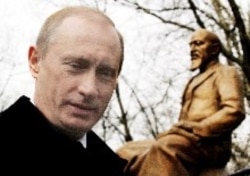 (epa)
COOPERATION, CONFLICT, CONFRONTATION: Relations between Russia and the West are notoriously volatile. "To see the kind of relationship that presidents Bush and Putin have developed and to see Russia firmly anchored in the West, that's really a dream of 300 years, not just of the post-Cold War era," then-national security adviser Condoleezza Rice said in May 2002.
But observers have increasingly called into question the extent of the shared values between Russia and the West, particularly on issues relating to the transformations going on in other former Soviet countries.
RELATED ARTICLES
Silent Diplomacy Versus Public Criticism
Analysts Say New Arms Race Unlikely
Moscow 'Unhappy' With Outcome Of CFE Conference
Moscow And Washington Spar Over WTO Membership
Russia Gears Up To Improve Its Image Abroad
Experts Urge U.S. To Rethink Relations With Russia
U.S. Official Says Russian NGO Law Part Of Antidemocratic Trend
ARCHIVE
To view an archive of RFE/RL's coverage of Russia, click here; to view an archive of RFE/RL's coverage of U.S.-Russian relations, click here.

SUBSCRIBE
For news and analysis on Russia by e-mail, subscribe to "RFE/RL Russia Report."