While Prime Minister Nuri al-Maliki traveled to Turkey and Iran to discuss border security and terrorism, Iraqi leaders met representatives from neighboring states in Damascus to follow up regional commitments made at the
May Iraq neighbors meeting
in Sharm el-Sheikh, Egypt.
Reaching Out To Syria
The Damascus meeting of the Security Committee for Coordination and Cooperation on Iraq, which was formed during the May neighbors meeting, sought concrete commitments from neighboring states in terms of security and border control, as well as support for al-Maliki's floundering national-unity government.
"We hope that this meeting will not be a routine one and will be effective and will come up with effective results that achieve a goal of supporting it in its current dilemma," Iraqi Deputy Foreign Minister Labid Abawi told reporters ahead of the two-day event, AP reported. "Iraq expects real and genuine support in passing through this dilemma and suffering of terrorism and violence."
The fact that the meeting is being held in Damascus, long seen as a conduit for the crossing of Al-Qaeda-affiliated terrorists into Iraq, raises questions as to the level of Syrian commitment to Iraq's security and may signal that Iraq's western neighbor may be ready to take serious action against terrorist infiltration into Iraq.
Syrian Interior Minister Lieutenant General Bassam Abd al-Majid said at the start of the meeting that Syria has gone to great lengths to control its border with Iraq, through the establishment of fixed checkpoints and patrols along the border. It also tightened measures on the crossing of persons under the age of 30, and arrested and repatriated would-be infiltrators headed for Iraq, he said.
Damascus took steps last month to cancel a conference for so-called opposition groups, including the outlawed Iraqi Arab Socialist Ba'ath Party, that would have established a "Front of National Forces Opposing and Resisting the Occupation." There were contradictory reports as to the reason for the cancellation, but the overriding consensus among observers was that Syria had signaled that the timing was not right to host such a gathering.

Cooperating Or Dividing?
Some observers of Syrian political developments have said that although Syria may be seeking to publicly distance itself from Iran, in light of a possible restart of U.S.-Syria dialogue and peace talks with Israel, in reality its commitment to Iran is as strong as ever. Some Arab commentators have also suggested Syria may be working to help further fracture the Arab unity in support of Iran.
Dawud al-Sharayan wrote in the London-based "Al-Hayat" on August 1 that Syria's refusal to attend the Arab foreign ministers' meeting in Cairo that week was a sign that Damascus "is trying to create a schism within the Arab rank in order to consolidate Iran's influence in Iraq, continue implementing Iran's policy in Lebanon, and protect its own regime from the repercussions of the assassination of [former Lebanese Prime Minister] Rafiq Hariri.
Iran and Syria presented a unified stance on Iraq in July when Iranian President Mahmud Ahmadinejad met with Syrian President Bashar al-Assad in Damascus. The final statement of their meeting mentioned that the two countries express support for the Iraqi government -- a concession some say by anti-Shi'ite Syria -- and support for national reconciliation between "all components of the Iraqi people," which one observer has argued was a concession by Iran, which supports Shi'ite militias against Iraq's Sunni Arab community.
Saudis Stay Away
Meanwhile, regional powerhouse Saudi Arabia boycotted the Damascus meeting amid strained relations with Syria and an ongoing feud with Iran over Tehran's growing regional designs. Saudi Arabia has also had terse relations with Nuri al-Maliki's government for months, and views the prime minister's close relationship with Iran as a threat. According to media reports, Saudi officials refused to disclose the reason behind their refusal to attend the meeting.
Saudi Foreign Minister Sa'ud al-Faysal told reporters at an August 7 press briefing in Jeddah that Iraq needs to live up to its commitments to provide for more participation by the country's Sunni Arabs made at Sharm el-Sheikh.
Al-Faysal said that his country remains concerned about the recent boycott by cabinet ministers from the Sunni-led Iraqi Accordance Front. "No doubt that the withdrawal of this coalition must have its impact on Iraqi national interests.... This is what has prompted us to stress the responsibility of the Iraqi government with regard to trying to avoid this situation because disagreement between the Iraqi factions and sects can only lead to the continuation of the cycle of violence," he said, which will "not serve Iraq's interests nor those of the region."
Baghdad Faces Daunting Challenge
The ability of the Iraqi government to prompt its neighbors into following through with commitments by taking concrete steps that thwart violence and sectarianism is a formidable challenge.
Al-Maliki told pro-Sunni Al-Baghdadiyah television in an interview that aired on July 30 that Iraq's neighbors still fail to realize that the terrorist threat from groups like Al-Qaeda is coming to their states soon. "We have told these countries that according to terrorists' confessions, Al-Qaeda will target them and trigger sectarian sedition here and there. Some operations have been carried out in Syria, Lebanon, and Saudi Arabia," al-Maliki said, adding that Al-Qaeda has also threatened Iran.
Al-Maliki speculated that U.S.-Iranian dialogue could pave the way for smoother relations between Iraq and its Arab neighbors. At the same time, he criticized Saudi Arabia for allowing 50 Sunni religious scholars to issue fatwas (religious edicts) against Shi'a. The fatwas labeled Shi'ite Muslims unbelievers and called on Sunnis to destroy Shi'ite shrines in Iraq and other Arab states.
"We have no information that the Saudi government has directly asked a terrorist group to operate in Iraq," al-Maliki said, adding that he hoped Saudi Arabia would work to fight sectarianism rather than allowing sectarianism and incitement to violence to grow on its soil.
Outcome Of Talks Predictable
The Damascus talks are unlikely to produce anything that will bring real and lasting change to the Iraqi security environment. The regional states are more concerned with their own domestic and regional agendas, to which Iraq is a pawn in the game.
Syria's overriding concerns vis-a-vis Lebanon, Iran, and Israel mean that it will continue to operate according to its own needs, and will seek to satisfy its commitments to Iraq only through a quid pro quo formula. Given its difficulties with the UN inquiry into Hariri's assassination, and its support for Iran and Lebanese Hizballah, and its preoccupation with a possible Arab peace deal with Israel, Iraq comes up low on Syria's list of priorities.
Saudi Arabia, which has recently been identified as the source of 50 percent of the foreign fighters going to Iraq, is preoccupied with regional Arab relations as well, including a possible Arab-Israeli peace deal, not to mention its preoccupation with the looming Iranian threat to regional stability.
For Iraq's Arab neighbors, the democratic experiment in Iraq, viewed as one that promotes Shi'ite governance and federalism to the detriment of Sunni Arabs, is one not to be supported.
Iran, Turkey Unlikely To Stay Out
Neighboring Turkey has its own concerns over a federal Iraq, and more specifically, over Kurdish attempts to expand their region to include Kirkuk.
Turkey fears its own Kurds will attempt to repeat the successes of Iraq's Kurds towards gaining autonomy. Hence the Iraq-Turkey talks this week focused on security, but primarily on Turkey's demand that the Iraqi government crack down on Turkish-Kurdish separatists from the Kurdistan Workers Party (PKK) hiding out in the Qandil Mountain range in northern Iraq.
Prime Minister al-Maliki agreed that the PKK should be dealt with and that Iraq should not be a haven for terrorists. But the prime minister's ability to force a military solution to the PKK problem in a region over which he has little control is questionable.
Moreover, the possibility that a military solution -- imposed by either Iraq or Turkey -- will bring further instability to Iraq is real and al-Maliki is no doubt cognizant of that.
As for Iran, Iraq is keen to develop strong relations with its eastern neighbor. During his visit, al-Maliki will meet with Supreme Leader Ayatollah Ali Khamenei, President Mahmud Ahmadinejad, and Ali Larijani, secretary of Iran's Supreme National Security Council and its lead negotiator in the dispute over its nuclear program.
Al-Maliki told AP while en route to Tehran that the two countries "have a joint understanding that they are keen to solve problems and sufferings of Iraqi people." However, it is clear that Iraq can do little to persuade Iran to stay out of its affairs as long as Iran is preoccupied with the presence of multinational forces on the ground in Iraq and the threat of international sanctions over its nuclear program, not to mention a possible U.S. military threat.
For the time being, it appears that regional states will pay little more than lip service to their commitment to secure Iraq. As long as they remain preoccupied with other domestic and regional issues, Iraq will remain of little concern, and unfortunately the preferred territory on which regional states can wage their political battles.
Iraqi Insurgent Media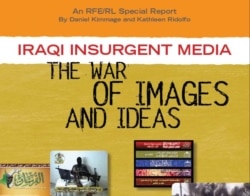 GETTING THE MESSAGE OUT. RFE/RL analysts Daniel Kimmage and Kathleen Ridolfo have produced a book-length study on the media efforts of the insurgency in Iraq and on how global jihadists are exploiting those efforts to spread their destructive message around the world....(more)
DOWNLOAD
(pdf format):
Part One Part Two Part Three Part Four Part Five



THE COMPLETE STORY: RFE/RL's complete coverage of events in Iraq and that country's ongoing transition.