The group was planning to hold a protest outside the house, calling for the release of Mansur Osanlu and another jailed union activist, Mahmud Salehi.
The gathering was part of what organizers hoped would be a worldwide day of protests to free the two men. The International Transport Workers Federation (ITWF) said its union affiliates would demonstrate in front of Iranian embassies in their countries, request meetings with Iranian diplomats, and present letters of protest.
A Radio Farda correspondent in Australia reported today that a group of Iranians had gathered in front of Iran's embassy in Canberra. Similar rallies were reported in Sweden and Germany.
The head of the Tehran bus drivers' union, Osanlu was detained on July 10. Salehi, a bakers union activist, was detained on April 9 in Iran's western Kurdistan Province.
In Tehran today, Osanlu's wife, Parvaneh, tells Radio Farda that security forces surrounded the house, preventing anyone from entering.
"There are a lot of security personnel in front of our door," she says. "We feel insecure, of course. My children are worried and upset; it's a very abnormal situation. We're innocent here, we have nothing, we are under pressure for nothing."
Radio Farda reports that five members of Tehran's bus drivers union were detained before entering the house.
The union was planning to hold a rally outside the house today.
Salehi's wife expresses cautious optimism about today's global campaign.
"I'm optimistic regarding this campaign, [but] we can't be 100-percent optimistic that Iranian officials will retreat from the sentences and arrests [of workers and union activists]," Parvaneh Osanlu says.
The Brussels-based ITWF says it is "extremely worried" about the health of both Osanlu and Salehi, who have been deprived of legal representation or medical care.
In London, the head of the International Transport Federation, David Cockroft, says it's time the Iranian government stopped its harassment of people he says are "doing the simple job of defending the rights of trade union members."
"We're deeply shocked and angered by the continued harassment of the leadership of the [Tehran bus drivers] trade union," Cockroft says. "We demand the immediate release of [Mansur] Osanlu and of [Mahmud] Salehi of the bakery workers union."
In London, the rights group Amnesty International accuses Iranian authorities of arresting the men in order to "halt their efforts to build strong trades unions capable of defending the human rights of workers."
The ITWF says Osanlu's imprisonment is the latest move in a two-year government campaign against him and his union. It says union meetings have been "brutally" broken up, and Osanlu and his supporters have been repeatedly jailed and beaten.
(Radio Farda's Roozbeh Bolhari contributed to this report)
Iran's 'No Browse' Zone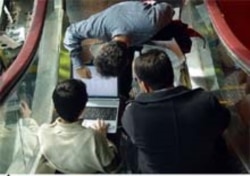 BLOCKED SITES: Iran's state Information Technology Company announced in September 2006 that more than 10 million websites were being "filtered" in Iran. They included the following, organized by category.
Forums, Sharing, and Entertainment:
The Google-owned Internet social network system www.orkut.com
The video-sharing website www.youtube.com
The photo-sharing website and web services www.flickr.com
The Kurdish version of Wikipedia's online encyclopedia www.en.wikipedia.org/wiki/Kurdish
Social and Human Rights:
London-based www.amnesty.org, one of the world's leading human rights defenders
New York-based Human Rights Watch www.hrw.org, also one of the leading human rights defenders in the world
The Paris-based Reporters Without Borders www.rsf.org, a leading media watchdog
The official website of the Tahkim Vahdat Organization, the largest reformist university organization in Iran www.advarnews.us. The group covers news concerning student activism in Persian
The www.gozaar.org website, a monthly Persian-English journal devoted to democracy and human rights
The www.meydaan.com website, a Persian site dedicated to women's rights and activism in Iran
News and Politics:
The Prague- and Washington-based www.radiofarda.com, a joint venture of RFE/RL and VOA covering news in Persian
The Persian service of the London-based BBC www.bbc.co.uk/persian
The Persian service of the Washington-based Voice of America www.voanews.com/persian
The Amsterdam-based www.radiozamaneh.com, which covers news in Persian
The pro Islamic Republic Tehran based www.baztab.ir covering political and social issues
Brussels-based www.gooya.com, featuring articles by journalists and political figures
The Amsterdam-based daily journal www.roozonline.com, which features articles and interviews in Persian and English
Weblogs:
The Google-owned blog publishing system www.blogger.com
The Harvard-based www.globalvoicesonline.org, a blog that summarizes events in the blogosphere in every corner of world
Numerous personal weblogs from around the world, both in Persian and English, with different views and focusing on different subjects including:
www.doomdam.com (satirical blog)
www.kosoof.com (photo blog)
(source: Radio Farda)