Iraq's Prime Minister Calls Crisis Summit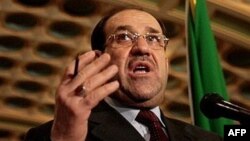 al-Maliki (file photo) (AFP) August 12, 2007 -- Iraqi Prime Minister Nuri al-Maliki said today that he has called for a summit of the country's political leaders.
The summit is due to take place in the next few days.
Al-Maliki told a news conference the crisis summit would discuss the main issues in the political process. The Iraqi governing coalition has been fraught by infighting.
Most recently, the largest Sunni bloc, the Iraqi Accordance Front, withdrew from the cabinet.
Seventeen ministerial posts in al-Maliki's government are either empty or filled by members boycotting cabinet meetings

(Reuter, AFP)
Saddam Hussein: Looking Back

A DICTATOR'S LIFE:
A photo gallery of images from the life of former Iraqi President Saddam Hussein.
MORE: A timeline of the life of Saddam Hussein.