Foreign Minister Abdullah Gul confirmed today that the AK party has again chosen him as its sole candidate for the presidency.
Gul is the former Islamist whose nomination earlier this year led to massive secularist demonstrations and a warning from the military that it might intervene if the country's traditional secularism were threatened.
That precipitated early elections last month, from which the AK emerged victorious. Prime Minister Recep Tayyip Erdogan said at the time it was up to Gul whether he stood again for the presidency. Gul has apparently chosen not to compromise with the secularists.
"Ending the military's interventions in politics will depend on how strong Turkey's political leaders are in the coming years," said political analyst Lale Sariibrahimoglu.
Voting will begin on August 20 in Turkey's parliament, with a two-thirds majority needed in the first two ballots. Gul is meeting opposition deputies today to try to secure enough votes from them. But in any case, on the third ballot only a simple majority is needed, which the AK can easily muster.
Balance of Power
Political analyst Lale Sariibrahimoglu, of the English-language Turkish paper "Today's Zaman," says the AK's landslide showing in the July 22 early elections has changed the balance of power between the civilian politicians and the army generals.
"If you are talking about the Turkish armed forces, which claims to be the army of the people, how can they stage some kind of intervention against the people's wishes?" she asked.
Sariibrahimoglu says that the results of the July 22 elections inflicted a "severe wound" on the military, and may prove to be a step toward ensuring that the military finally stops dabbling in politics.

"Ending the military's periodic interventions in politics will totally depend on how strong Turkey's political leaders are in the coming years and decades," Sariibrahimoglu said. "This is in turn a reflection of how political leaderships will rule and govern, rather than sharing their power with the military."
No Religious Agenda
Gul has been serving as foreign minister in Erdogan's government, and in that capacity he has proven to be a pragmatic modernist.
The 56-year-old economist has driven forward Ankara's negotiations for membership in the European Union, and he denies having any secret agenda to bring religion into Turkish political life.
The secularists distrust him, however, because of his earlier links with a now-banned Islamic party, his devout observance of his religion, and because his wife wears a headscarf -- which in Turkey is seen by some as a symbol of Islamic militancy.
The deputy head of the secularist Republican People's Party, Onur Oymen, is quoted by "The New York Times" as saying the determination with which the AK and Gul have pursued the presidency "shows how determined they are to convert the modern Turkish secular state into a religion-based administration."
It's too early to say whether the secularists will launch a new wave of protests against his candidacy. Analyst Sariibrahimoglu thinks not. And she believes that, if elected, Gul will go out of his way to avoid tensions.
Islam In A Pluralistic World
Islam In A Pluralistic World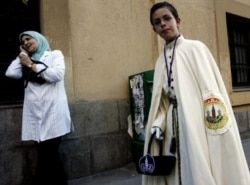 A Muslim woman (left) watches a Christian procession in Madrid in March (AFP)


READ
CONFERENCE ON ISLAM:
A major international conference on Islam concluded in Vienna in November 2005 with strong appeals from prominent Muslim leaders to recognize international terrorism as simply "terrorism." Political figures from Islamic countries, including the presidents of Iraq and Afghanistan, argued that it should never be labeled "Islamic" or "Muslim" terrorism because Islam is based on peace, dialogue, and tolerance. "Salaam" -- meaning "peace" -- was the key word of the three-day conference, titled "
ISLAM IN A PLURALISTIC WORLD
."
Iraqi President Jalal Talibani and Afghan President Hamid Karzai used the word in their remarks to emphasize the peaceful nature of Islam. Other speakers quoted passages from the Koran to the effect that all men and women, regardless of faith, are creatures of God and should live in peace with each other without discrimination
...(more)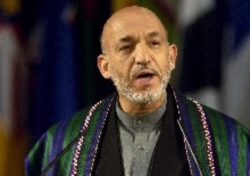 LISTEN
Listen to Afghan President
HAMID KARZAI
's complete address to the Vienna conference (in English):
Real Audio
Windows Media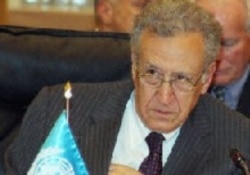 LISTEN
Listen to UN special envoy
LAKHDAR BRAHIMI
's complete address to the Vienna conference (in English):
Real Audio
Windows Media
THE COMPLETE PICTURE:
Click on the image to view a thematic webpage devoted to issues of religious tolerance in RFE/RL's broadcast region and around the globe.