There were notable aspects of U.S. engagement with Uzbekistan from September 2001 until 2004, when Karimov allowed U.S. forces to use the Karshi-Khanabad air base in southern Uzbekistan as a hub for U.S.-led coalition missions in neighboring Afghanistan. In a span of two years, Uzbekistan saw visits from then-U.S. Defense Secretary Donald Rumsfeld (three, in fact), Secretary of State Colin Powell, and nearly 80 U.S. Congressmen.
U.S. concern over widespread poverty and human rights abuses in Uzbekistan was in evidence in May 2005, after Karimov cracked down on violent antigovernment unrest in the eastern city of Andijan, killing hundreds of unarmed protesters.
Washington responded with criticism and demanded an international investigation. Uzbek officials subsequently ordered U.S. forces to vacate the Karshi-Khanabad air base, and they have since banished U.S. nongovernmental organizations and media.
Fool's Gold?
The largest U.S. business venture in Uzbekistan also fell victim to Karimov's anti-Western campaign.
Colorado-based Newmont Mining Corporation's $250 million venture with Kazakhstan's Zarafshan operates the largest open-pit gold mine in the world, at Muruntau, in Uzbekistan's Qyzylqum Desert. It was the first major joint venture by a Western mining company in the former Soviet Union. One year ago, Uzbek authorities seized gold and other assets from the venture and lodged tax claims against it. Authorities gave the company three years -- until 2005 -- to pay those back taxes. Zarafshan-Newmont eventually filed for bankruptcy, and a yearlong dispute over the joint venture concluded in July. The result forced the Americans from the country and eliminated any hope that they could run the mine on their own.
Uzbekistan might appear distant and unimportant in economic terms to U.S. observers. But American business in neighboring oil-rich Kazakhstan is thriving.
Newmont has already written off a large part of the investment. The company was forced to turn to international arbitration in Stockholm. Fearing such litigation and the prospect of an international ruling, Uzbek officials approached U.S. officials with a dispute-settlement proposal. Under the terms of that proposal, Newmont will reportedly transfer its stake in the joint venture to Uzbekistan and receive one-third of what it invested during 13 years of operation.
Lessons Learned
The U.S. investor in Coscom -- an Uzbek-U.S. joint venture that is Uzbekistan's third-largest mobile operator -- has been forced out of the country. The company agreed to sell outstanding shares to TeliaSonera, the Nordic-Baltic telecommunications group.
Asked about U.S. business interests in Uzbekistan during a visit to Tashkent in 2006, Richard Boucher, the assistant secretary of state and top U.S. official for Central Asia, suggested that investors will draw their own conclusions based on the actions taken in specific cases.
A meeting in June of Uzbek officials with representatives of the American Chamber of Commerce underlined the obscurity of Uzbek-U.S. economic cooperation. At that Washington meeting, Uzbekistan's minister for foreign economic relations, Elyor Ganiyev, offered up Uzbek investment possibilities. But he added that it is mainly Russia and his country's Asian neighbors who exploit them. Trade turnover with the United States is low enough that the Uzbek minister offered a total for the past five years in a single figure of $500 million. By comparison, bilateral trade between Uzbekistan and Russia grew in 2006 by an annual 51 percent, to some $3.1 billion.
Uzbekistan, which plays a key geostrategic role in Central Asia, might well appear distant and unimportant in terms of economic cooperation to U.S. observers. But American business in neighboring oil-rich Kazakhstan is thriving.
Much Potential
Uzbekistan has unique potential for natural resources and other raw materials. The total mineral and raw-material potential of the country is estimated at some $3.5 trillion. Uzbekistan is in the top 10 on a list of global producers of copper and resource uranium. It also possesses enormous opportunities and potential in the area of gold mining: Uzbekistan is the world's 9th largest producer of gold, and the second largest among 15 former Soviet republics; it is the group's biggest per-capita producer of gold. The gold-mining industry is among the most attractive in Uzbekistan for foreign investors.
The government in Tashkent prefers the country's traditional route for gas exports, which is through Russia. Its oil resources can only meet the needs of domestic consumption, if they are managed well. The United States previously had a stake in gold mining, the construction of the oil and gas infrastructure, and farming machinery, but most of those ties have disappeared.
On the other hand, Uzbekistan could well become a key U.S. ally and economic partner in the region. It enjoys an important geostrategic location, and its population of 27 million makes it Central Asia's largest potential market. It is little wonder that, in the mid-1990s, U.S. companies like Procter & Gamble initially located their regional hubs in Tashkent -- until the Uzbek government limited its currency's convertibility and diverted many investors out of Uzbekistan into Kazakhstan.
The most recent assessment of the London-based Economist Intelligence Unit (EIU) describes the political risk in Uzbekistan as extremely high. Although Uzbekistan is starving for investment, EIU Uzbekistan analyst Ann-Louise Hagger says the investment environment there is currently especially unfavorable for Westerners.
Russia, China, and Southeast Asian countries are getting used to the environment, however.
The new U.S. ambassador to Uzbekistan, Richard Norland, is expected to take up his post at the embassy in Tashkent soon. Economic cooperation with Uzbekistan looks to be one of his main challenges.
Uzbekistan, Russia, And The West
Uzbekistan, Russia, And The West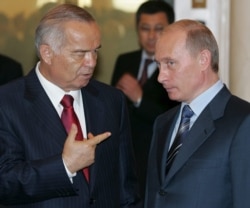 President Karimov (left) with Russian President Putin in July 2005 (epa)


BETWEEN EAST AND WEST: One of the ramifications of the May 2005 bloodshed in Andijon has been a souring of relations between Tashkent and the West, accompanied by a raproachment between Uzbekistan and Russia. Following sharp U.S. and European criticism of the Andijon crackdown, Uzbekistan kicked the United States out of the Karshi-Khanabad air base and began actively courting Moscow.
"Today, we are reaching an unprecedented level in our relationship," Uzbek President Islam Karimov said during a November 2005 summit with Russian President Vladimir Putin, at which the leaders signed a strategic-partnership agreement. "I understand and we all understand in Uzbekistan that it is unprecedented that Russia signs such a partnership agreement with Uzbekistan."
RELATED ARTICLES
Germany Likely To Leave Uzbek Base
The Geopolitical Game In Central Asia
Uzbekistan: Between East And West
Central Asia: Russia And U.S. Often At Odds In Region
Russian, U.S. Military Bases On Opposite Tracks
Swiss Spokeswoman Explains Arms Ban On Uzbekistan
Putin Defends Ties With Uzbekistan, Belarus, Iran
Uzbekistan: Playing Russia Against The West
Factbox Of Uzbek-Russian Relations


THE COMPLETE STORY: A dedicated webpage bringing together all of RFE/RL's coverage of the events in Andijon, Uzbekistan, in May 2005 and their continuing repercussions.
CHRONOLOGY
For an annotated timeline of the Andijon events and their repercussions, click here.