The footage has fuelled intense debate on Russian-language Internet chat rooms and blogs.
The video shows two men, bound and kneeling on the ground in a forest, a large swastika flag hanging behind them. A third man then beheads one of the captives. The second captive is shot in the head. Two masked men raise their arms in a Nazi salute.
A number of Internet users have expressed horror at the video and called for more control over the Internet.
Oleg Panfilov, the director of the Moscow-based Center for Journalism in Extreme Situations, says restrictions on Internet content could help curb the spread of nationalist ideology. But he says he is not in favor of such restrictions in Russia.
"You don't need to ban air conditioning or ice creams to prevent people from catching a cold," Panfilov says. "Authorities can happily impose restrictions on the Internet, but they will outlaw everything connected to political opposition activists. Problems regularly arise with websites that post material from the [opposition groups] Other Russia and the National Bolshevik Party. But nothing is done to ban Nazi or fascist ideas."
Racial Attacks On The Rise
Racially motivated attacks and killings have soared in Russia over the past few years. Rights activists have consistently blamed authorities for turning a blind eye by convicting most perpetrators of "hooliganism," a charge that carries relatively light sentences.
According to Panfilov, the reason for this is the popularity of nationalist ideas in official circles.
"Videos showing Russian nationalists beating up people from Central Asia and the Caucasus emerge quite frequently," Panfilov says. "What worries me most is the authorities' placid reaction to the fact that such videos not only appear on the Internet, but also stay there for a long time. Like many experts, I assume that a number of officials support what the nationalists are doing."
"Extremism is an accusation that is the equivalent to 'enemy of the state' in Stalinist times. Any criticism of the authorities, any attempt to express social discontent, falls under extremism." -- Igor Yakovenko, Union of Russian Journalists
Calls for tighter Internet control to combat nationalism began in January 2006, when a young man called Aleksandr Koptsev burst into a Moscow synagogue during evening prayers and stabbed eight people with a hunting knife. Koptsev -- who was subsequently sentenced to 13 years in prison -- said he was inspired to act by nationalist and neo-Nazi websites.
His claim launched a barrage of official statements about the need to screen Internet content.
Interior Minister Rashid Nurgaliyev urged the world to join forces against terrorism and crime on the Internet. And Pavel Krasheninnikov, the chairman of the State Duma Committee for Civil and Criminal Law, called for the tightening of legislation on extremism and proposed to introduce harsher punishment for those using cyberspace to spread ethnic and religious hatred.
Amended Law On Extremism
The current debate launched by the video comes just days before an amended version of Russia's law on extremism is due to come into force.
The legislation, signed into law by President Vladimir Putin in July, will broaden the definition of "extremism" and give law-enforcement agencies the authority to suspend media outlets that fail to comply with the new rules.
The new law bans public discussion of "extremist" activity and the production and distribution of what it describes as "extremist" material.
For local and international media watchdogs, this measure -- ostensibly designed to fight extremism -- is intended primarily to silence critical voices and put pressure on journalists. The New York-based Committee to Protect Journalists has criticized the amendments, saying that the "vague language" in which they are phrased makes them "ambiguous and all-encompassing."
Igor Yakovenko, the secretary general of the Union of Russian Journalists, agrees.
"Extremism is an accusation that is the equivalent to 'enemy of the state' in Stalinist times," Yakovenko says. "Any criticism of the authorities, any attempt to express social discontent, falls under extremism. And journalists are not the only ones concerned. The recent attempt by workers of the AvtoVAZ [car factory] to defend their interests, for example, was presented as an instance of extremism."
State Censorship Unlikely
But according to Yakovenko, state-imposed Internet censorship is not a likely scenario in Russia.
"I wouldn't panic about it," he says. "There are examples of very efficient battles against the freedom of expression on the Internet. The main example is China. Unlike Russia, China doesn't present itself as a free country, it isn't seeking to enter the G8. Russia imitates a free country. This is why I think Russia probably cannot resort to the restrictions that China is imposing on freedom of expression on the Internet."
Should Russia decide to follow the Chinese model, authorities may not actually have the power to censor the Russian-language Internet.
"The government and law-enforcement agencies cannot -- are not -- able to handle the problem of information circulation on the Internet, of regulation of the Internet," Ilya Rasolov, an expert on Internet law, tells RFE/RL's Russian Service. "Especially if only one state -- Russia -- is involved. This is an international problem."
The authorities' wrath has nonetheless already fallen on a number of Russian websites and bloggers.
Memorial Commentary Removed
In February, prosecutors ordered the human-rights organization Memorial to remove a commentary from its website written by a Russian mufti commenting on trials against defendants charged with links to the radical Islamic group Hizb ut-Tahrir. Russia banned Hizb ut-Tahrir as a terrorist group in 2003.
The latest Internet-related crackdown came on August 14, when prosecutors in the northern town of Syktyvkar charged an Internet blogger with inciting hatred. The blogger had posted a message on LiveJournal describing police officers as "hooligans" and saying they should be "periodically set on fire." The blogger faces penalties ranging from a $4,000 fine to a two-year prison sentence.
(RFE/RL's Russian Service and correspondent Chloe Arnold contributed to this report)
The Erosion Of CIS Press Freedom
The Erosion Of CIS Press Freedom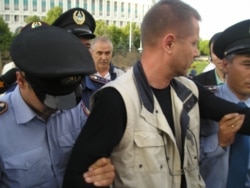 Prominent Kazakh journalist Sergei Duvanov being arrested in Almaty last month (RFE/RL)
FROM BAD TO WORSE. RFE/RL and Freedom House experts held a panel discussion at which they analyzed the erosion of press freedom in many CIS countries. According to Freedom House rankings, in 1994, six of the 12 CIS countries were rated "partly free"; by 2004, 11 of the 12 were rated "not free."
LISTEN
Listen to the entire briefing (about 70 minutes):

Real Audio
Windows Media
SUBSCRIBE
For regular news and analysis on media issues throughout RFE/RL's broadcast area by e-mail,
subscribe to "RFE/RL Media Matters."