After she was released on August 20, Arap claimed that she was beaten, drugged, and humiliated during her internment.
Arap had sought mental health treatment in the past. This time, however, she says the treatment had nothing to do with her condition -- and everything to do with her reports on child abuse in local psychiatric wards.
Arap alleged that children and adolescents held in the Murmansk regional psychiatric hospital in the remote city of Apatity were regularly subjected to electroshock treatment and sexual abuse.
Her article, entitled "Madhouse," was published June 8 in the Murmansk edition of "March of Dissent," the newspaper tied to the United Civic Front (OGF) opposition coalition led by Garry Kasparov. Arap is an OGF member and close to the time of her article's publication attended a Murmansk rally protesting the policies of Russian President Vladimir Putin.
Detained, Then Drugged
On July 5, during a routine medical examination, Arap's doctor asked if she had authored the piece on the psychiatric wards. Within hours, the 49-year-old Arap was detained by police and then taken by ambulance to a Murmansk hospital where she was injected with drugs that blurred her vision and left her weak and unable to maintain her balance.
"It's been revealed with unusual clarity that punitive psychiatry, so-called 'police' psychiatry, is alive and well," said Yury Savenko, the president of Russia's Independent Psychiatric Association.
On July 26, she was relocated to the Apatity facility she described in her article. Her case has drawn heated criticism from people who see the spectre of the Soviet-era "psikhushka" -- psychiatric wards used for the involuntary detention of political opponents of the state -- resuming its role as a tool of repression.
Upon her release, Arap said that the clinic staff had tried to force her to sign a declaration stating that she was being treated voluntarily. "I refused, after which I was asked to sign another declaration requesting to be released but pledge to get outpatient psychiatric treatment. There was no other solution than to write this declaration. They wouldn't have let me go otherwise," Arap said.
Arap was freed from the institution less than a week after Russian human-rights ombudsman Vladimir Lukin called for her release. Lukin called for an independent assessment of Arap after human-rights groups, the OGF, and members of her family claimed she had been forcibly detained in retaliation for her article.
Yury Savenko, president of Russia's Independent Psychiatric Association, led the expert commission chosen by Lukin to examine Arap. He said that although Arap showed signs of mental instability -- she admits to being briefly hospitalized at Apatity in 2004 for stress and insomnia -- the forced hospitalization was in no way necessary.
"Our group managed to meet with her, despite every possible obstacle being put before us," Savenko said. " We studied medical documents and materials related to the case, and spent an hour and a half with her. The result was that we came to the conclusion that we're dealing with a person who is in fact ill. There are no 'politics' behind this. However, the politicization of our entire life is such that these patients become the first victims of the situation. And it's been revealed with unusual clarity that punitive psychiatry, so-called 'police' psychiatry, is alive and well. Because Larisa Arap, from the very beginning, presented no immediate danger to herself or others."
He added that under the circumstances, the forced treatment was likely to worsen, rather than alleviate, Arap's condition.
Involuntary Treatment
According to data from the Independent Psychiatric Association, as many as 5-7 percent of the patients hospitalized in medical facilities like the Murmansk hospital are undergoing involuntary treatment.
"Psychiatry in Russia today is broadening its repressive functions and the use of involuntary measures in relation to citizens," says Lyubov Vinogradova, executive director of the Independent Psychiatric Association, who joined Savenko on the expert commission that met with Arap.
Vinogradova calls Arap's hospitalization "involuntary and a violation of human rights."
The New York-based Committee to Protect Journalists (CPJ) published an open letter calling on President Putin to honor the findings of Lukin's expert commission, ensure Arap's release, and see that a criminal investigation is opened against those responsible for her detention and treatment.
"The horrifying method of forcible psychiatric detention as punishment for dissent was a trademark of the Soviet past and has no place in a new, democratic Russia," the CPJ statement said.
(RFE/RL correspondents Svetlana Volskaya and Olga Vakhonicheva contributed to this report.)

A Nation's Mental State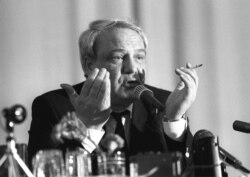 'TWILIGHT ZONE':
One of the best-known victims of so-called "punitive psychiatry" is dissident and writer Vladimir Bukovsky. In the 1960s and 1970s, as a diagnosed "psychopath," he experienced firsthand the forced-treatment psychiatric units where Soviet authorities sent many of its political opponents.
Bukovsky, now 65, was one of the first to expose the truth behind the Soviet "psikhushki." In the early 1970s, his detailed accounts of the practice were successfully smuggled to the West. He also coauthored "A Manual on Psychiatry for Dissidents," meant to help fellow dissidents fight persecution. In 1976, he was forcibly exiled. He has lived in Britain ever since.
In 1992, Bukovsky traveled to Moscow to visit the place he believed was responsible for a great deal of his misery -- the Serbsky Institute for Social and Forensic Psychiatry. Much of his writing documented the use of Serbsky as a state tool of repression.
In the spirit of reconciliation that came in the early years following the Soviet collapse, Serbsky director Tatyana Dmitriyeva acknowledged the role of the institute in past political repressions.
After the rise of Vladimir Putin to the presidency in 2000, however, Dmitriyeva once again recanted, saying the institute was guilty of no offense and that reports of punitive psychiatry were exaggerated.
Since then, a Serbsky official has gone on record as saying Bukovsky, at the time of his forced care, was undoubtedly "psychopathic." (As evidence, he cited the fact the dissident had written "hundreds of letters of complaint" following one of his arrests.)
Bukovsky is now seeking to return to Russia and secure a place as a candidate in Russia's March 2008 presidential elections. A group dedicated to supporting his nomination this week issued a statement saying that, unless the Serbsky Institute formally recants, Bukovsky retains the right to sue either the institute or its employees for slander.
The statement also suggests that the Serbsky Institute's revised diagnosis may be used as a pretext for barring Bukovsky from the vote. Authorities have already tried three times to block his candidacy, pointing to the fact that Bukovsky, who was forcibly exiled in 1976, was no longer a Russian citizen and had not spent the past 10 years in Russia, as mandated by Russian law.
Bukovsky has since restored his Russian citizenship, and argues that his involuntary exile should not bar him from the vote. Bukovsky now fears his restored status as a "psychopath," may give election authorities a fresh opportunity to challenge his bid to become a presidential candidate.
The pro-Bukovsky statement notes that Dmitriyeva, the woman responsible for erasing the Serbsky Institute's culpability in the practice of Soviet-era "punitive psychiatry," is currently a senior member of the dominant pro-Kremlin party Unified Russia.
Asked if punitive psychiatry is once again on the rise, Bukovsky said in an interview with Britain's "The Daily Telegraph" that "anything is possible in Russia. We live in a twilight zone."