Dmitry Tereshin has hardly slept since July 5, the day his wife, Larisa Arap, telephoned him from the local hospital in Murmansk to say doctors were forcibly admitting her to a psychiatric unit. She had gone to the hospital for a routine check-up she needed to renew her driver's license.
"In my opinion, it may have been because of the article, because the doctor had read the article Larissa wrote," Tereshin told RFE/RL. "The article was entitled 'Madhouse,' and it revealed what goes on in psychiatric clinics."
Doctors and local health officials have categorically denied any link between Arap's article or her political activities and her admission to the psychiatric unit.
Abuses Alleged In Children's Wards
Arap is a member of the opposition United Civic Front, headed by Garry Kasparov. In June, she wrote a story in a local newspaper that alleged barbaric practices at children's wards at psychiatric hospitals in Murmansk Oblast.
In her article, Arap claimed children were forced to kiss and massage the legs of staff members at hospitals, and were forbidden to walk around outside the ward more than once every two weeks. She also made allegations of child abuse, including rape, in the psychiatric wards.
Now Arap has herself been admitted to a psychiatric institution in the town of Apatiti, some 300 kilometers from Murmansk. Human-rights advocates say her detention marks a return to Soviet-era practices, when dissenters were commonly locked away in mental-health institutions.
Roman Chorny, an activist with the Citizens Commission on Human Rights, flew to Murmansk this week to ask for a meeting with Arap.
"Unfortunately, Larisa Arap was not invited to take part in the conference [held between doctors, human-rights groups, and journalists]," Chorny said. "Representatives of the psychiatric unit said that Larisa Arap had apparently refused to talk to journalists and human-rights groups, which I find very hard to believe."
Doctors and local health officials have categorically denied any link between Arap's article or her political activities and her admission to the psychiatric unit.
"As far as I can recall, not a single patient has been admitted to this or any other hospital in the region for political reasons," said Yevgeny Yenin, the chief medical officer at the Murmansk Regional Psychiatric Hospital, where Arap is being held. "They are only admitted for medical reasons -- because they need medical attention -- and in accordance with the law."
Doctors say Arap has been hospitalized before with mental-health problems. Her husband confirmed that she spent two weeks at a psychiatric unit in 2004. But Chorny at the Citizens Commission on Human Rights says health officials are deliberately distorting the truth.
A Smear Campaign?
"This looks to me very much like a smear campaign, an attempt to discredit this person," Chorny said. "Even if she was hospitalized in 2004, the fact of her hospitalization doesn't mean anything. A person has the right to protect the rights of others and to write about conditions in psychiatric wards. Simply because she revealed this to the media does not mean she should herself be incarcerated in a psychiatric ward."
The Citizens Commission for Human Rights has made a formal complaint to the head of the regional administration and Murmansk's governor, and asked the region's prosecutor to look into the case. Under pressure from human-rights groups and the United Civic Front, Russia's human-rights ombudsman has also opened an inquiry.
Meanwhile, Arap's husband is making the seven-hour round trip to Apatiti to see his wife every couple of days.
"We're trying to get her out of there," Tereshin said. "But it involves a complicated legal process; a court needs to make a second decision on her case. There may have to be three, four, five decisions made. I don't know what will happen next."
The United Civic Front has called Arap's detention illegal and is demanding her immediate release.
Other Russia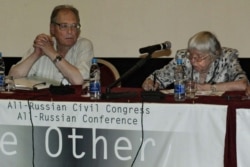 Human rights activists Sergei Kovalyov (right) and Lyudmila Alekseyeva at the Other Russia conference in Moscow on July 11 (epa)

STATEMENT OF PRINCIPLES: Below is a translation of excerpts from the statement adopted by organizers of the Other Russia conference, which was held in Moscow on July 11-12. The conference brought together leading nongovernmental organizations and activists in an effort to show that Russian civil society continues to exist despite growing pressure from the Kremlin.
We are gathering because we are united by the most important thing -- our disagreement with the current course of the Kremlin and a growing alarm for the present and future of our motherland. We are gathering together, despite differences in our views about the past and the future of Russia. We are gathering together although we have differing conceptions of the paths our country must take toward freedom and development. Despite these differences, we are united by the following:
We, citizens of the Russian Federation, can achieve our stated goals only by observing, preserving, and demanding democratic principles of the organization of government and society; unshakeable human rights regardless of national, religious, or social status; respect for the views of others that do not contradict the Constitution of the Russian Federation; freedom of speech; honest political competition; and justice in the distribution of the national wealth, which is created by free people.
We oppose the transformation of Russia into a country ruled by bureaucratic whimsy; where the institutes of popular power and civil society are systematically destroyed; where the electoral process is completely controlled by the executive branch and, therefore, turned into a farce; and where the authorities demonstrate contempt for the interests of the majority of the population.
Signed:
Lyudmila Alekseyeva, Moscow Helsinki Group; Viktor Anpilov, Working Russia; Mikhail Delyagin, Institute of Problems of Globalization; Yury Dzhibladze, Center for the Development of Democracy and Human Rights; Andrei Illarionov, Institute of Economic Analysis; Garry Kasparov, United Civic Front; Mikhail Kasyanov, Popular Democratic Union; Eduard Limonov, National Bolshevik Party; Yelena Lukyanova, lawer; Vladimir Ryzhkov, Republican Party; Georgy Satarov, INDEM foundation.
RELATED ARTICLES
Opposition, NGOs Gather Ahead Of G8 Summit
'Other Russia' Conference Opens In Moscow
Religious Leaders Focus On Violence, Environment
SUBSCRIBE
For news and analysis on Russia by e-mail,
subscribe to "RFE/RL Russia Report."