Prosecutors allege that Kuznetsov revealed state secrets in the course of defending a client, former Federation Council member Levon Chakhmakhchyan, against embezzlement charges.
According to prosecutors, Kuznetsov revealed the secrets by disclosing a document containing information about the Federal Security Service's wiretaps of Chakhmakhchyan's phone conversations.
A Moscow court on July 11 gave the go-ahead for Kuznetsov to be prosecuted.
"I was simply carrying out my duty," Kuznetsov told RFE/RL Russian Service correspondent Danila Galperovich today (the complete interview in Russian). "I found documents that talked about wiretapping not just a common citizen, but a member of the Federation Council. I did as much as I could to make sure that fact was exposed and proven. And it was precisely that memorandum, marked 'secret,' that contained evidence that [security services] knew who they were eavesdropping on. And I sent it not to [Israel's] Mossad [intelligence agency] or the CIA, but to the Constitutional Court."
Prominent lawyer Genri Reznik accused the FSB of acting outside the law and influencing the judicial process.
"The FSB is more equal than others," Reznik told RFE/RL. "For example, I can say that when such an organization is hanging over a case, the independence of our prosecutors and our judges is reduced."
Over the years, Kuznetsov has taken cases that have angered the Russian authorities.
He defended the interests of murdered journalist Anna Politkovskaya's family, and is currently working with Manana Aslamazyan, the head of a nongovernmental media organization who fled Russia after being charged with smuggling undeclared cash into the country.
Kuznetsov also defended the families of the 118 sailors killed in the sinking of the "Kursk" nuclear submarine in 2000. In 2005, he published a book alleging that Russian authorities covered up the facts behind the disaster.
"I think there was an element of revenge in this for the book I published two years ago, but most probably it was done to exclude me from several cases, such as the case of [Educated Media Foundation chief] Manana Aslamazyan," Kuznetsov said. "I also represent the interests of [Anna] Politkovskaya's family; I don't rule out that it had to do with the case of Vladimir Khutsishvili, accused of killing [former Rosbiznesbank chief] Ivan Kivelidi, because it's perfectly plain that security services were involved in those cases in one way or another."
Kuznetsov said he "remains a Russian citizen and a Russian lawyer." But depending on how his case develops, he said would not rule out seeking political asylum.
Not An Isolated Case?
Another defense attorney having problems with Russian prosecutors is human rights lawyer Karinna Moskalenko.
Prosecutors in late June accused Moskalenko of "negligence" in her defense of former Yukos CEO Mikhail Khodorkovsky -- and are attempting to get her disbarred. Khodorkovsky himself, however, has issued a statement from his prison colony saying he is satisfied with her work.
Moskalenko has won 27 rights cases against the Russian state before the European Court of Human Rights in Strasbourg. She has represented clients including opposition politician Garry Kasparov, torture victims in Chechnya, survivors of the 2002 Moscow theater hostage crisis, and relatives of those killed in the 2004 Beslan school siege.
A spokeswoman for the International Commission of Jurists said Moskalenko "is being victimized for representing people that the government is opposed to, and that's a concern for [those interested in] the rule of law in Russia."
A disciplinary panel of the Moscow Bar Association is expected to rule on her case soon.
Boris Nemtsov At RFE/RL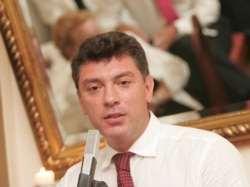 Boris Nemtsov speaking to an RFE/RL event in Prague on June 11 (RFE/RL)

'SOFT DICTATORSHIP.' Former Russian First Deputy Prime Minister Boris Nemtsov, a member of the Political Council of the Union of Rightist Forces party, told an RFE/RL gathering that Russia is facing a watershed moment with its 2008 presidential election.
LISTEN
Listen to the entire briefing (about 35 minutes):

Real Audio
Windows Media
ARCHIVE
RFE/RL's complete coverage of
Russia
. The website of
RFE/RL's Russian Service
.
SUBSCRIBE
For news and analysis on Russia by e-mail,
subscribe to "RFE/RL Russia Report."