Decades ago, Vladimir Bukovsky was on the front lines in the battle against Soviet autocracy. Today, he wants to help Russia's embattled opposition in its struggle against President Vladimir Putin's increasingly authoritarian rule.
Bukovsky, 64, says he would like to return to Russia in the autumn.
"Every nation needs democracy, and if the people don't understand they need democracy, they're in trouble." -- Vladimir Bukovsky
An Uphill Battle To Run For President
And although he announced in May that he would like to run for president as an opposition candidate, Bukovsky told RFE/RL's Russian Service on July 12 that he does not expect Russia's Central Elections Commission to register him.
According to Russian law, a presidential candidate is required to have lived in the country for 10 consecutive years. And even if that obstacle could somehow be overcome, Bukovsky says he is sure the authorities would find other pretexts to block his candidacy.
"I don't have any illusions," he said. "Most likely the election commission will not register me as a candidate. They have enough legal hitches for that. And by the time it's been settled via the Constitutional Court, the election will be over. So, basically, it's easy for them to [prevent me from registering]. Nevertheless, I want to participate in order to help the opposition grow, gain strength and structure, so the opposition becomes a force in our society."
Russia is scheduled to hold elections to the State Duma in December and a presidential vote to choose Putin's successor in March 2008. Bukovsky says he wants to help the opposition explain to the public the importance of accountable democratic governance.
"Every nation needs democracy, and if the people don't understand they need democracy, they're in trouble," he said. "You can't create anything without democracy. Our task is to help them understand that. If the people don't understand it well enough, our task it to explain it to them. A stable system cannot be undemocratic. A stable situation can be achieved in the country only if society plays an active and energetic role in governance."
Divided Opposition
If he does return to Russia, Bukovsky will find a divided opposition movement entering the elections. Former Prime Minister Mikhail Kasyanov quit the Other Russia opposition coalition on July 2. Other Russia's leader Garry Kasparov said Kasyanov left over a dispute about how to choose a single opposition presidential candidate.
Bukovsky says the current tensions in the Russian opposition are nothing new. Such schisms have long characterized the opposition movements in various stages of the country's history.
"The opposition [in Russia] has always been very divided and small in numbers," Bukovsky said. "There have been small parties that could never achieve anything on their own, but never agreed to unite or nominate a single candidate. This was always the opposition's disadvantage and its weak spot. And it is still the case, so there is nothing new in [disagreements within the Other Russia opposition movement], the more so since Other Russia is trying a achieve a difficult goal, and that is to unite people of almost opposite views. It is good and possible to achieve if the goal is to protect the institution of free elections. For that goal, we can unite with whomever we want, but it's difficult to propose a single candidate from such different and opposite [political groups] is very difficult. I'm afraid they won't be able to nominate a single candidate."
Bukovsky earned worldwide fame -- and a stiff prison sentence -- when he exposed the abuse of psychiatric institutions against Soviet political prisoners. He spent a total of 12 years in Soviet prisons, labor camps, and psychiatric hospitals before being exiled in 1976.
Bukovsky says that under Putin the use of fear and intimidation as political tools is on the rise again.
"Don't forget that the current regime in Russia is quite repressive," he explained. "There are many legal restrictions that make opposition activity rather difficult and sometimes dangerous. Political assassinations are growing, there is a law on extremism -- a notion that is impossible to decipher from the legal point of view -- and so on, and in these conditions many people are simply afraid to take part in politics in any way."
Former President Boris Yeltsin restored Bukovsky's Russian citizenship in 1992.
His passport expired in 1997 and Bukovsky did not bother to attempt to renew it until now.
Democracy In Russia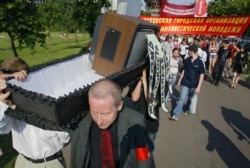 Demonstrators in Moscow carry a coffin with a television in it to protest government control over broadcasting (TASS file photo)


DO RUSSIANS LIKE THEIR GOVERNMENT? During a briefing at RFE/RL's Washington office on November 15, Richard Rose, director of the Center for the Study of Public Policy at the University of Aberdeen, discussed the results of 14 surveys he has conducted since 1992 on Russian public opinion about democracy and the country's development. He discussed the implications of these opinions for relations with the West and for Russia's 2008 presidential election.
LISTEN
Listen to the complete discussion (about 42 minutes):

Real Audio
Windows Media
RELATED ARTICLES
U.S. Election Expected To Chill Relations With Moscow
Are Mayors Next 'Power Vertical' Victim?
Monarchist Nostalgia Remains Powerful
Russian Election Commission Rejects Third-Term Appeal
Romanov Burial May Be Part Of Kremlin Image Campaign
ARCHIVE
All of RFE/RL's English-language coverage of
Russia
.


UPDATED CONSTANTLY: Visit RFE/RL's Russian-language website, featuring news, analysis, features, streaming audio, and more, in Russian, from RFE/RL's Russian Service.